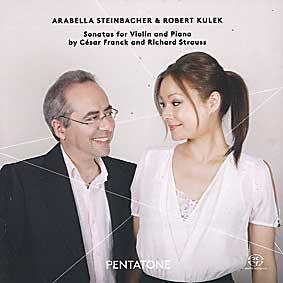 The Strad Issue: January 2015
Description: Largely successful accounts of two Romantic sonatas
Musicians: Arabella Steinbacher (violin) Robert Kulek (piano)
Composer: Franck, Strauss
Few works are so crucially dependent on those magical places between and behind the notes of a written score being fully explored as Franck's chromatically superheated yet at times tantalisingly restrained Violin Sonata. And this is where Arabella Steinbacher and Robert Kulek really come into their own, exchanging the thrilling, high-octane impact of classic accounts from Itzhak Perlman (with Vladimir Ashkenazy on Decca) and Shlomo Mintz (with Yefim Bronfman on Deutsche Grammophon) for a more poetically responsive flexibility that works wonders in the first and third movements and also sets the finale rejoicing exultantly without the need for heroic displays of bravado.
The Strauss is a rather more challenging work, one whose wide-ranging emotional contours are not always matched by a compelling structural sense of forward momentum. Whenever the music calls for tonal purity, musical finesse and phrasal sensitivity, Steinbacher's captivating artistry shines forth like a musical beacon, yet during those moments when Strauss swashes his buckle with a swaggering, adrenalin-fuelled machismo, one senses from both players a certain reluctance to throw caution to the winds during even the most opulent outbursts. There are typically alluring sonics from PentaTone, which open out to stunning effect when experienced in full multi-channel surround sound.
JULIAN HAYLOCK