The Strad's editor Emma Baker introduces the June 2022 issue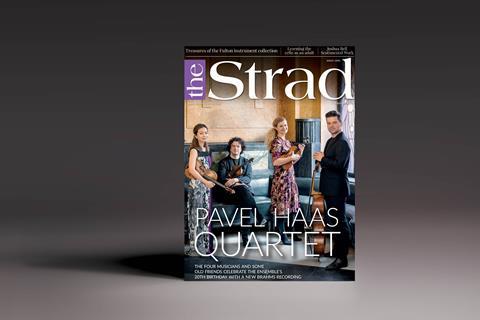 Is it ever too late to learn an instrument? Not according to Billy Tobenkin who, at the relatively advanced age of 25, picked up a cello for the very first time. Some years later, and after an immense amount of hard work, he is now a professional player and teacher. He tells his story on page 36, and shares the insights he gained as a mature student when approaching what is a huge task at any age – striving to attain professional-level musicianship.
Our cover interview this month marks the Pavel Haas Quartet's 20th anniversary. On page 28 the quartet's current members talk about the early competition win that set up their international careers, reminisce about life on the road, and reveal how they are celebrating their ensemble's birthday year by collaborating with some old friends on their new recording of Brahms quintets.
In lutherie this month, on page 52 Leonhard Rank delves deeply into the application of UV and infrared light spectra to analyse the structure and finish of old instruments – literally making parts of them fluoresce. In this way, researchers can unlock secrets to historic instruments that are otherwise invisible to the naked eye.
The war in Ukraine has entered its third month, with many thousands of innocent civilians displaced or subjected to unimaginable suffering. On page 12, our special report features two Ukrainian violinists, who speak from personal experience about what they and their families went through at the start of this horrific conflict. And on page 16 we acknowledge the 146 cellists who came together online to play the Ukrainian national anthem to raise funds for the country. Do please check out the video on thestrad.com. As well as the music, there is an interview with a young cellist from Kyiv who speaks movingly about what, as individuals, we can do to help.
Emma Baker editor
Email me at thestrad@thestrad.com or tweet @TheStradMag
In our regular sections:
In Focus: Alberto Giordano examines a rare violin by Erminio Montefiori from 1892
Trade Secrets: Matthew Tucker reveals his 'plug and plate' method of repairing scrolls
My Space: Modena maker Lorenzo Frignani
Making Matters: Have we entered a 'second transition period' in violin and bow making?
Masterclass: Violinist Fedor Rudin on the first movement of Debussy's Violin Sonata
Technique: Double bassist Edwin Barker on phrasing musically under pressure
Life Lessons: With violinist Vadim Gluzman
Opinion: The importance of using imagery and visualisation in violin teaching
Postcard from Odense: The violin section of the Carl Nielsen International Competition
From the Archive: From June 1892
Sentimental Work: Joshua Bell explains his love for Wieniawski's Second Violin Concerto
Print subscribers also receive our 60-page annual Accessories supplement.