Now in its third year, the London-based celebration of all things cello is back with a jam-packed programme of events
WALTHAM FOREST CELLO FEST 2021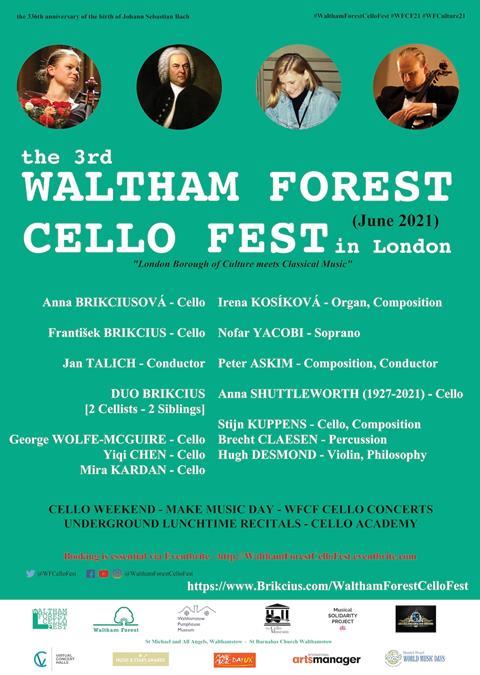 London, UK
You are invited to London's third WALTHAM FOREST CELLO FEST (WFCF).
As in previous years there will be WFCF Cello Concerts, Underground Lunchtime Recitals (in the historic Victoria Line carriage), Cello Weekend, Make Music Day and Cello Academy (all ages and abilities are welcome!) Events will be held mainly online in June 2021.
The WFCF 2021 features cellists and young promising cello talents from Belgium, China, the Czech Republic, France, Israel, Italy, the UK and the USA.
WCFC begins with a CELLO WEEKEND from Saturday 5 – Sunday 6 June:
INDIVIDUAL MASTER CLASSES with WFCF cellists and cello teachers František Brikcius and Anna Brikciusová, both members of DUO BRIKCIUS (2 Cellists – 2 Siblings)
Two WEBINARS with Belgian cello teacher Stijn Kuppens covering topics including instrument and bow handling and maintenance, and how to buy or rent a cello
CELLO RECITAL – INNER CELLO performed by cellist and composer Stijn Kuppens with violinist and philosopher Hugh Desmond and percussionist Brecht Claese
Interactive online INTERPRETATION MASTERCLASS with conductor and The Next Festival of Emerging Artists artistic director Peter Askim
CELLO LAUREATES presenting three young promising talents supported by WFCF scholarships: Chinese cellist Yiqi Chen (the Music and Stars Awards - Grand Prix 'Crown of Stars') and US cellists Mira Kardan (the Sound Espressivo Competition) and George Wolfe-McGuire (the King's Peak International Music Competition)
Introduction to THE CELLO MUSEUM – INNOVATIONS IN CELLO-MAKING MATERIALS by museum founder Brenda Neece and guest curator and researcher Erica Lessie
REMEMBERING ANNA SHUTTLEWORTH – an informal online gathering of friends, colleagues and students of legendary cellist and cello teacher Professor Anna Shuttleworth (1927–2021)
Music documentary film MAKANNA to commemorate the 121st anniversary of the birth of writer Jiří Weil (1900 - 1959). The film, featuring conductor Jan Talich, narrator Jan Židlický, cellist František Brikcius, composer Irena Kosíková and the Talich Chamber Orchestra, is based on Weil's novel of the same name, about the rise and fall of a seventh-century false prophet who covers his face with a green veil and whose eyes glow like embers. It has been shown in Beijing (9th European Union Film Festival in China), Lisbon (International Music Film Festival in Portugal), Mexico (Author's International Film Festival) and Prague (Václav Havel Library). A concert performance was held at the Jewish Museum in Prague, under the auspices of Sir Tom Stoppard and Václav Havel
Other events:
SAVE THE QUEEN Saturday 12 June
Virtual poetry reading from Anna Brikciusová's new poetry collection SAVE THE QUEEN, with accompanying cello music by the author, to commemorate the 211th anniversary of the birth of poet Karel Hynek Mácha (1810 - 1836). In the cooperation with the Bach Festival Gers.
CELLO RECITALS Sunday 13 and Sunday 20 June
Czech cellist František Brikcius will perform Johann Sebastian Bach's Cello Suites in Waltham Forest.
MUSICAL SOLIDARITY PROJECT Saturday 19 June
Online introduction to the #VirtualVerdiChoir's MUSICAL SOLIDARITY/COVID-19 project and MUSICAL SOLIDARITY DOCUMENTARY
Created and produced by Italian-Israeli soprano Nofar Yacobi in response to the global COVID-19 crisis. In global collaboration with Waltham Forest Cello Fest, 55 opera houses, orchestras, cultural institutions, 16 sign language professionals and about 500 performers including singers, instrumentalists, conductors, soloists, orchestra players, music students and amateurs from 65 different countries.
MAKE MUSIC DAY Monday 21 June
To celebrate 'the UK's largest single-day music event' WFCF CELLO ACADEMY will offer another round of free individual cello sessions with cellist and cello tutor František Brikcius.
ORGAN RECITAL Saturday 26 June
Organ performance of 18 LEIPZIG CHORALES, to commemorate the 336th anniversary of the birth of Johann Sebastian Bach. 100 minutes of unique music performed by Czech organist and composer Irena Kosíková. The performance includes manuscript of Bach's score that turns pages along with the music.
UNDERGROUND LUNCHTIME RECITALS Sunday 27 June (subscribe to our newsletter for more dates)
Following in the tradition of previous UNDERGROUND LUNCHTIME RECITALS in the Walthamstow Pumphouse Museum's historic Victoria Line Carriage
WFCF CELLO ACADEMY 26 July – 1 August
For the second time Waltham Forest Cello Fest will hold a Cello Academy of online summer cello master classes. Individual remote cello lessons are held via Zoom or Skype. All ages, levels, and abilities are welcome! Our cello tutors are cellists and cello teachers František Brikcius and Anna Brikciusová.
Each course includes 6 x 50-minute lessons (plus approximately five minutes for technical set up), final online presentation workshop and a certificate of completion.
Numbers are limited so book now!
Most online events are followed by a Q&A. Please put your questions in the comments or an email.
WALTHAM FOREST CELLO FEST was created in 2019 as a cello celebration of the communities in Waltham Forest the first ever Mayor's London Borough of Culture. The WFCF is supported by Make It Happen – London Borough of Waltham Forest.
For the latest news follow WFCF on Twitter (@WFCelloFest), Facebook and Instagram (@WalthamForestCelloFest)
For more updates and details about the 3rd WALTHAM CELLO FOREST FEST 2021 in London (this year in June mainly online) visit https://www.Brikcius.com/WalthamForestCelloFest
🌲 The 3rd WALTHAM FOREST CELLO in London 2021 🎻
"London Borough of Culture meets Classical Music"
https://www.brikcius.com/WalthamForestCelloFest
https://www.youtube.com/WalthamForestCelloFest
https://Twitter.com/WFCelloFest
https://www.facebook.com/WalthamForestCelloFest
https://instagram.com/WalthamForestCelloFest
SUBSCRIBE: https://eepurl.com/dJgp89
SUPPORT: https://www.paypal.me/WFCelloFest/20
https://www.crowdfunder.co.uk/WalthamForestCelloFest
BOOK: https://WalthamForestCelloFest.eventbrite.com
#WalthamForestCelloFest #WFCF21 #WFCulture21