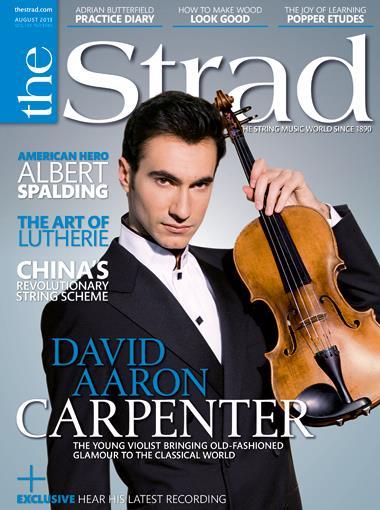 In February this year, we caught up with US violist David Aaron Carpenter as he was preparing to record Brahms's Clarinet Quintet op.115 (viola version) with members of the Berlin Philharmonic. You can read the interview in our August issue, available now for download or in print. Plus, as a special exclusive to The Strad, we're delighted to present the finished recording four months ahead of its official CD release.

In our eight-page cover interview, Carpenter talks about his upbringing in New York; his early training as a violinist; why he made the switch to viola; learning with Pinchas Zukerman, Nobuko Imai and Yuri Bashmet; why he favours a Michele Deconet instrument; and the music festival he founded on Long Island. He also discusses how he sees the current state of the music industry: 'I'd just like to see classical musicians up there with the top celebrities. It's frustrating to see the public lured by the latest pop sensation, who more often than not is completely untalented.'

Click here to listen to Carpenter's recording of the Brahms Quintet.