In the years since Gregor Piatigorsky first set out to boost the cello's profile, the instrument has seen a massive growth in popularity, particularly through the efforts of crossover artists, says Yoshika Masuda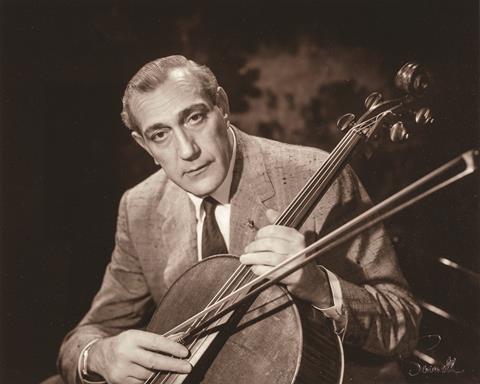 The legendary Russian–American cellist Gregor Piatigorsky made it his mission to popularise the cello throughout North America. His superstar status brought him to some of the greatest concert halls in the world, but Piatigorsky had a particular interest in performing in more rural parts of the countries he visited, often in front of audiences who had never heard a cello before. His passion for commissioning new works, together with his own compositions and transcriptions of popular tunes for the cello, contributed to his ability to reach a wider audience with whom he could share his love for the 'box with four strings'.
I think Piatigorsky would be extremely pleased to see how his vision has continued to evolve and flourish in our present time. An artist who has contributed to this rise in popularity to an unprecedented degree is Yo-Yo Ma. Ask anyone on the street who Yo-Yo is, and the chances are they will have heard of him. That is an amazing feat when you think about it. His honest approach to music, together with his ever-curious mind, have resulted in fascinating collaborations with artists ranging from Stéphane Grappelli and Bobby McFerrin to Carlos Santana and Chris Thile. His appearances on TV shows like Sesame Street have also inspired many youngsters to start playing the cello.
Yo-Yo is one of the few artists to have maintained a good balance between the exploratory genres and the standard classical repertoire, while constantly striving towards an ever higher artistic pursuit in all that he does. Similarly, Canadian cellist Matt Haimovitz has a passion for stepping into the non-classical genre (check out his take on Jimi Hendrix's Star-Spangled Banner) but he also connects with his audience by playing the Bach Suites in pubs and other 'offbeat' venues. He says that this allows him to 'put a human face to Bach'. I agree that this can humanise classical music, making it more approachable and reforming the general public's preconceived ideas of what it means to go to a classical concert.
The biggest change between the time of Piatigorsky and now has been the enormous growth in the accessibility of music. With the explosion of social media in recent years, crossover groups such as 2Cellos and The Piano Guys have used their considerable abilities to become hugely successful. Consequently, they have lifted the profile of the cello while reaching a more diverse and younger audience. The numbers speak for themselves: to date, 2Cellos has a total combined online view count of over 965 million, while The Piano Guys are on 1.6 billion. Though these groups may not fit into the traditional category of 'classical' artists, they are certainly carrying on Piatigorsky's mission by creating a relevant niche enthusiastically embraced by the audiences of today.
In its entire history, the cello has never been more popular than it is now. Like many other great artists, Piatigorsky merely wanted to share his love of music with as many people as possible through the medium he knew best. Today, the fruits of his labour have blossomed into a musical landscape that encompasses an incredibly wide array of styles and genres, standing as true testament to the cello's versatility and ability to produce a broad spectrum of sounds. Has this exploration gone too far, however? Has the explosion of 'pop cello' come at the expense of an appreciation of all the complexity and subtlety that classical music has to offer?
Consider this: if someone has never before heard classical music, but falls in love with the cello through hearing a group like 2Cellos, then couldn't that become the perfect stepping stone to introducing classical music into that person's life? We can all agree that Schubert can take us into a divine realm, but perhaps before that, a Vivaldi–AC/DC mash-up might just be the right thing to listen to. I am confident that the generous spirit of Piatigorsky would approve!
From the November 2019 issue of The Strad. Click here to subscribe