Publishing the jurors' scores in their entirety is the latest move for music competitions to prove their transparency – but is it a trend that's likely to catch on, asks Peter Somerford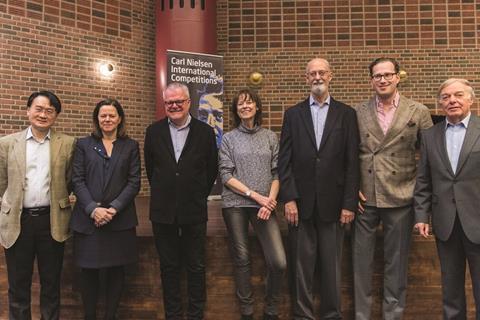 Next year's Carl Nielsen International Competition in Odense, Denmark, will join a select list of music competitions that publish their juror scores or voting records. That this list includes newer competitions such as the Shanghai Isaac Stern International Violin Competition and the Elmar Oliveira International Violin Competition, as well as established contests like the Wieniawski International Violin Competition, suggests that we may be entering a refreshing age of greater transparency.
Publishing voting records is one way to deter jurors from showing favouritism towards competitors with whom they may have a connection. But some competitions try to remove any potential for conflicts of interest altogether. One of violinist and conductor Nikolaj Znaider's conditions for accepting the presidency of the Nielsen Competition in 2015 was that no tutors should be on the jury.
'I don't have anything against teachers,' he stresses, 'but you only have to look at the underlying psychological mechanisms in play to see why having teachers on the jury is a bad idea. A teacher has a direct, vested interest in one person receiving a prize over someone else.
'Having or knowing a prize-winning student is good for a teacher, and even the most honest teacher will be influenced subconsciously by the idea that his or her professional life might be changed by one student winning rather than another.'
But is banning teachers from juries a total solution? David Stern, co-chair of the Shanghai competition, argues that it's impossible to disentangle every possible connection between jurors and competitors: 'What if someone is not a student's teacher but has given a masterclass to that student? What if a juror has played a concert with one of the participants? There's no way to make it 100 per cent clean.
'So instead of trying to do something that's impossible, let's make all the scores absolutely transparent, so jurors cannot get away with awarding a ridiculous score based on a connection with a participant, because everything is exposed for all to see.'
'A teacher has a direct, vested interest in one person receiving a prize over someone else' – Nikolaj Znaider
Although Znaider agrees that there is no system of juror selection that safeguards against jurors having had any previous contact with any competitor, he counters that 'It's surely better to try to make it as clean as you can, than not to try.
'The only thing you can do is invite jurors who don't have vested interests, and that's why the people we have don't teach.'
The number of competitions engaging fewer teachers and more performers on their juries is on the rise, says Benjamin Woodroffe, secretary general of the 122-member World Federation of International Music Competitions, and former director of the Melbourne International Chamber Music Competition.
'Competitions are naturally shifting in this direction,' he says, 'not just to avoid conflicts of interest but also because they want to discover artists who have something to say musically.
'The assessment of peers – performers assessing other performers – can get very passionate results without the conflict of interest that teachers could bring.'
But Woodroffe doesn't see teachers disappearing from juries altogether. 'I think there will always be some teachers involved,' he says. 'The Federation has developed guidelines for how to manage teachers on juries, and conflict of interest can be addressed effectively, as it is in many spheres of industry.'
Now that the Tchaikovsky, Nielsen, Wieniawski and other big competitions are streamed live in their entirety, publishing juror scores after every round might be an attractive proposition not just for reasons of transparency but also in terms of the audience feeling more invested in the event and being able to compare their own assessments of the participants with those of the judges.
But Woodroffe does not expect the publication of juror scores to become a universal phenomenon: 'I'm finding that while competitions in northern Europe are particularly strong on wanting voting results made public, competitions in other parts of the world are not. Each event is taking place in a different cultural context, and publishing voting records may not be part of a competition's natural way of operating.
'But that doesn't mean in any way that they have something to hide.'
Transparency can work both ways. As chair of the Wieniawski jury, Maxim Vengerov personally went and listened to all 250 candidates in the pre-selection for the 2016 competition. Part of his motivation for doing so, as he told The Strad in an interview earlier this year, was to lay bare the issues with a person's playing that video auditions can sometimes hide: 'With video recordings, candidates can record their audition piece as much as they want, up to 10 or 20 times.
'Then they send the safe product in and later they turn up in the competition and you wonder why they are there. Also, with video, people can cheat with the sound.'
From the jury perspective, Znaider aims to remove as many influencing factors as possible at the 2019 Nielsen competition, for example by placing jurors behind a screen for part of the first round, and not letting them read competitor biographies until the second round.
'No system is foolproof,' he says, 'but what we're trying to do is establish a new kind of formula.' Whether or not other competitions change or feel the need to change their own jury make-up or voting system, contests such as the Nielsen seem to be pushing the bar for transparency increasingly high.