This year's Carl Nielsen International Violin Competition, which took place in March, succeeded not only as a joyous celebration of the composer's music, but in bringing together exciting young players set to make their mark on the world stage, writes Charlotte Smith
'I want all contestants to understand that no decision we are about to announce will define you,' said Carl Nielsen International Competition president Nikolaj Szeps-Znaider as a prelude to revealing the 2019 results in Odense, Denmark.
It was a statement typical of the healthy, collegiate environment of this year's event. In some respects an incredibly tough and demanding ask of all participants, in others the contest was defined by its warm appreciation of music in every form, and of the works of Carl Nielsen in particular.
The Nielsen competition, launched in 1980, was designed as a vehicle for the composer's music – much loved in his native Denmark, but less recognised and performed internationally. Active in the early 20th century and influenced by such late Romantics as Brahms and Grieg, Nielsen increasingly stretched the bounds of tonality, as evidenced in his concertos for violin, flute and clarinet.
The contest's three instrument sections each champion their corresponding concerto, and while previous iterations focused on a single instrument, the 2019 competition was the first to feature concurrent rounds for all three.
The result was the transformation of the town of Odense – birthplace of fairytale writer Hans Christian Andersen and about nine miles from where Nielsen was born – into a hive of activity, with an atmosphere more in keeping with a springtime festival than a straight-laced competition.


Szeps-Znaider, who himself won the Nielsen violin contest in 1992, encouraged an inclusive atmosphere by choosing varied juries from all areas of musical life, and deliberately excluding professional teachers in an effort to avoid the familiar charges of favouritism levelled at many competitions.
On the violin panel, alongside Szeps-Znaider himself, were National Symphony Orchestra concertmaster Nurit Bar-Josef; composer Sally Beamish (whose new composition, commissioned for the competition, formed part of the second round); Vienna Philharmonic concertmaster Albena Danailova; artist manager Kathryn Enticott, formerly of IMG Artists; pianist Ingrid Fliter; violin soloist Sergey Khachatryan; musicologist and Leipzig Gewandhaus Orchestra concert office director Tobias Niederschlag; and Odense Symphony Orchestra concertmaster Eugen Tichindeleanu.
Further efforts to increase transparency and fairness included the publication of jury scores for all rounds following the contest's conclusion; and having the panel members listen to performances from behind a screen during the first half of the first round – with no access to contestant biographies until round two.
Before the contest, Szeps-Znaider had set out his thoughts regarding the judging process. 'It's surely better to try to make it as clean as you can, than not to try,' he explained. 'The only thing you can do is to invite jurors who don't have vested interests.'
In fact, the experience of listening from behind a screen proved more interesting than the violinist had anticipated, as he told me before the final: 'I found it fascinating listening in that way – and it made me realise just how much our opinions are formed by what is happening visually on stage. Of course, this is important for performers, because as musicians we must be both visually and aurally engaging.'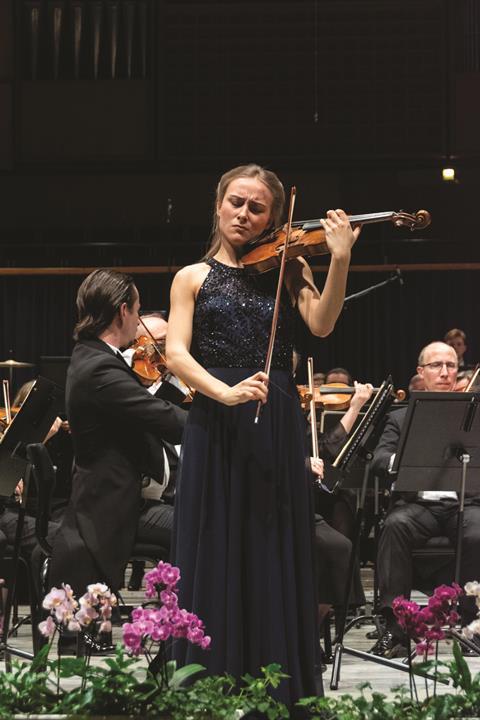 The violin contestants were certainly engaging. This was a high-calibre bunch, especially considering the relatively modest first prize of €12,000, a recording on Orchid Classics and solo concert engagements with up to ten top orchestras.
Possibly because other prominent competitions are taking place this year – notably the Queen Elisabeth and Tchaikovsky contests – the majority of participants were comparatively young, making for particularly exciting and fresh performances in repertoire spanning solo Bach; virtuoso works by Paganini, Ernst and Kreisler, among others; Beethoven sonatas; Mozart concertos; and 19th- and 20th-century concertos – including, of course, the Nielsen Violin Concerto.
By the time I'd arrived for part one of the finals, six violinists had been whittled down to just three by way of the Mozart concerto round – in which each player had conducted a reduced Odense Symphony Orchestra from the instrument. First up in the spacious and acoustically clear Odense Concert Hall was 22-year-old Anna Agafia Egholm, from Denmark, who performed Shostakovich's First Concerto with the full Odense Symphony Orchestra conducted by Yaron Traub.
While the lightness and purity of Mozart had eluded her somewhat, the larger Shostakovich played very much to her strengths – an attractive, darkly warm tone in its lyrical passages and full-bodied muscularity in its runs and double-stops. This was a confident performance, powerful and generous, and in no way aggressive or forced.
French violinist Marie-Astrid Hulot, aged 21, followed in a very different but equally compelling performance of the popular Violin Concerto by Korngold. Her refined delicacy and slightly narrow vibrato did much to combat the work's schmaltzier characteristics, and although her passagework sometimes felt a little breathless, her clear, resonant tone – especially in the upper register – allowed her to rise above the dense orchestral forces as she clearly enjoyed their tuneful accompaniment.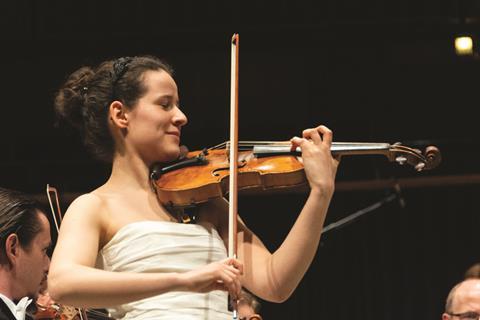 The revelation of the evening, however, came from 18-year-old Johan Dalene from Sweden, who produced perhaps the most individual performance of the Tchaikovsky Violin Concerto I have ever heard. Often conveyed with a certain gutsiness of tone, the work is too frequently bogged down by the weight of its various iconic interpretations.
By contrast, Dalene was supple and fleet of foot, introducing fluid yet perfectly controlled tempos so that the music flowed easily and never wallowed in its own sense of importance. His sound character was mercurial – incorporating rich deep tones as well as wispy sul tasto – and in the third movement his spiccato was a joy.
In the second part of the finals, held two days later (on 31 March), all three contestants squared up to the Nielsen Concerto – a mammoth work at around 35 minutes in length and highly challenging technically, with leaps and bounds encompassing the length of the fingerboard and multiple awkward string-crossings. Egholm performed first, again demonstrating her strong and attractive tone and particularly steady bow arm.
Johan Dalene produced perhaps the most individual performance of the Tchaikovsky Violin Concerto I have ever heard
However, this piece seemed to test her more than the Shostakovich, and at times she appeared to be battling against the music rather than working with it. By contrast, Hulot's lighter and more fluid take was less of a struggle. Often she seemed to be floating above the central drama, which made for greater technical ease, but sacrificed a little of the emotional core.
Once more Dalene struck the right balance: more present than Hulot, but less challenged by the work's unwieldy passages than Egholm. This was an incredibly varied and poised performance, unafraid to take the dynamic down to the smallest pianissimo and betraying not the slightest tremor when he played in the highest registers in moments of captivating stillness.
It came as no surprise, then, that Dalene took the top prize, followed by Hulot in second place and Egholm in third. More than many a recent contest, the Nielsen managed to find three musically mature performers, each of whom will no doubt forge interesting and diverse careers. Audiences following those careers will be the true winners in the long run.