Two-part final on Friday and Sunday will see all three play the Nielsen concerto plus another 19th- or 20th-century concerto of their choice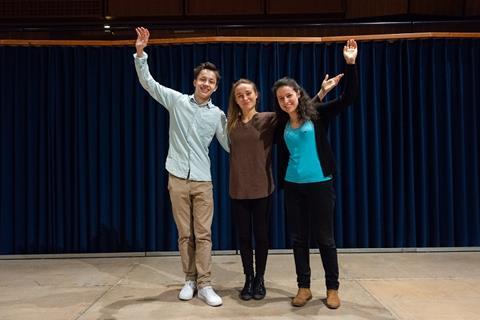 The violin section of the Carl Nielsen International Competition has reached its final stage with the announcement of three finalists. They are:
Johan Dalene (18, Sweden)
Anna Agafia Egholm (22, Denmark)
Marie-Astrid Hulot (21, France)
The three violinists will take part in a two-part final, each performing a 19th- or 20th-century concerto of their choice on Friday 29 March and the Nielsen concerto on Sunday 31 March. Both finals will be at the Odense Concert Hall with the Odense Symphony Orchestra conducted by Yaron Traub.
In the first final, the competitors have chosen to play:
Johan Dalene: Tchaikovsky concerto
Anna Agafia Egholm: Shostakovich concerto no.1
Marie-Astrid Hulot: Korngold concerto
The first prize winner will receive a cash award of €12,000, a CD recording with the Odense Symphony Orchestra on Orchid Records, and a minimum of ten concert appearances with top European orchestras.
The violin event takes place in parallel with a clarinet and flute competition, reflecting the three instruments Nielsen wrote concertos for. The competition dates back to 1980 when the first violin competition was held in Odense. Clarinet and Flute competitions were added in 1997 and 1998 respectively. Until now the individual competitions have taken place in rotation once every four years but this year, for the first time, all three competitions are taking place side by side.
The president of the competition is Nikolaj Szeps-Znaider, who himself won the competition in 1992 in a vintage year, with Jennifer Koh and Pekka Kuusisto taking second and third place respectively.
Audiences around the world can tap into nielsen2019.medici.tv for live streaming, replays, interviews and behind the scenes footage.
For more information about the competition and its clarinet and flute finalists, visit carlnielsencompetition.com