The finalists will compete on 21 July 2017 for the $20,000 top prize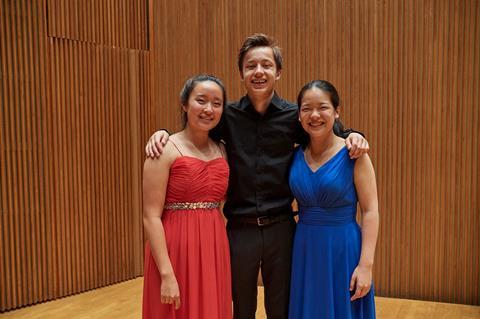 The Thomas & Evon Cooper International Competition has named the three young violinists who will compete in its Concerto Final on 21 July at the Severance Hall in Cleveland, with the Cleveland Orchestra under conductor Jahja Ling.
The violinists are: Christina Jihee Nam, 14 (US), who will play the Tchaikovsky concerto; Qing Yu Chen, 17 (US), who will play Prokofiev's Concerto no.2, and Johan Dalene, 16 (Sweden), also performing the Tchaikovsky.
The three finalists were named on Wednesday evening after the Recital Finals, knocking out Zachary Brandon, Maya Anjali Buchanan and Kiarra Saito-Beckman, who each earned a $1,500 prize. Dalene was named the Audience Favourite, picking up a bonus $500.
The top three positions will be awarded $20,000, $10,000, and $5,000 respectively.
The final, starting at 7.30pm EDT, will be broadcast live on WCLV 104.9 FM and streamed on the competition's homepage.
Photo: l-r, Christina Jihee Nam, Johan Dalene, Qing Yu Chen