Violinist Anne-Sophie Mutter has paid tribute to the great maestro and humanitarian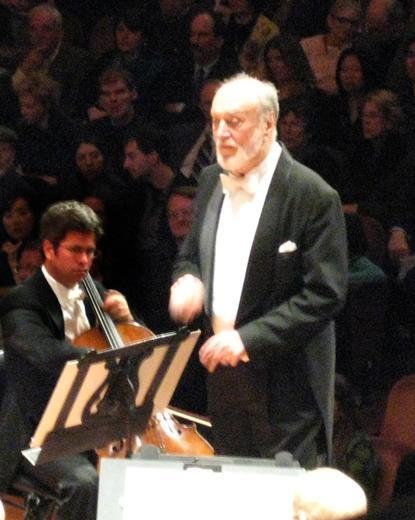 Conductor Kurt Masur died on 19 December at the age of 88. The German maestro was music director of the New York Philharmonic Orchestra for 11 years, from 1991 to 2002, and was given the title music director emeritus following his retirement from the role.
Born on 18 July 1927, Masur conducted many of the world's leading orchestras. He was principal conductor of the Dresden Philharmonic from 1967 to 1972, and in 1970 became Kapellmeister of the Gewandhausorchester, Leipzig, serving in the post until 1996. He also served as principal conductor of the London Philharmonic Orchestra from 2000 to 2007, and was music director of Orchestre National de France from 2002 until 2008.
A great humanitarian, Masur led the Gewandhausorchester in Beethoven's Ninth Symphony to celebrate the reunification of Germany in 1990. In the wake of the September 11, 2001 terrorist attacks in America, he also led the New York Philharmonic in a moving performance of Brahms's German Requiem. The legacy of that performance is still felt today, through an Annual Free Memorial Day Concert, which Masur introduced.
Violinist Anne-Sophie Mutter paid tribute to the conductor on her Facebook page:
'I want you all to join me in a moment of silence, a moment of remembrance for one of the world's greatest musical leaders – Kurt Masur.
My wonderful friend and collaborator of over 35 years passed away in the night of December the 19th.
Kurt Masur stands for music in Schiller's philosophy expressed in his 'ode to joy'. His love for people, the moral and humanistic dimension of his life in thought as well as in conduct will be deeply missed around the world.
I have lost a most noble and faithful friend to myself as well as to my children.
The world – my life, will have less exuberance of expressiveness without you, dear Kurt.
I miss you. We all miss you …'
Watch: Anne-Sophie Mutter performs Beethoven's Triple Concerto conducted by Kurt Masur
Photo: Masur conducting San Francisco Symphony in 2007