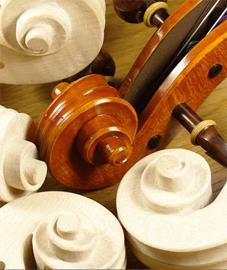 The results are in from the second China International Violin Making and Bow Making Competition, held in Beijing. In the violin division, the gold medal and 120,000 yuan (€14,500) prize went to Xiangwei Chen from China. Chen also won the silver medal. Bronze went to Min Sung Kim from Italy.

In the viola division, the gold medal and €17,500 prize went to Krzysztof Krupa from Poland. Min Sung Kim won silver, and Chinese luthier An Zhang took bronze.

Xiangwei Chen won gold and 200,000 yuan (€24,500) in the cello division. Silver went to Huidong Yu, and bronze to An Zhang.

In the violin bow making category, Ma Rong-Di won gold and 24,000 yuan (€3,000). Jianfeng Li took silver, and Zhengfei Zhen bronze. All three are from China. Ma Rong-Di also won the gold medal and 24,000 yuan (€3,000) in the viola bow making division. Again, silver went to Jianfeng Li. Bronze was won by Junhui Zhu, also from China.

Günther Späthling, from Germany, won gold and €3,500 in the cello bow making division. Junhui Zhu took silver, and bronze went to Zhengfei Zheng. The bass bow making division gold medal and €3,500 was won by Marcin Krupa from Poland. Silver went to Günther Späthling, and the bronze to Christian Barthe from France.

Other prizes were presented for workmanship and sound. The participating instruments are on display until Saturday 21 September in the exhibition hall of the National Centre for the Performing Arts in Beijing.

Subscribe to The Strad or download our digital edition as part of a 30-day free trial.