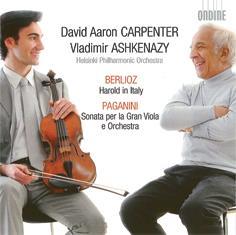 The Strad Issue: January 2011
Description: A celebration of Paganini in his guise as a violist
Musicians: David Aaron Carpenter (viola) Helsinki Philharmonic Orchestra/Vladimir Ashkenazy
Composer: Berlioz, Paganini
Paganini wrote his Sonata per la gran viola after finding Berlioz's Harold in Italy inadequate for his needs. 'There are too many rests in my part! I must play all the time,' he complained. Some ornamental passagework that Berlioz inserted into the first movement, hoping to please his client, has been unearthed for this recording. Interesting as it is to hear it once, it sounds as half-hearted as Berlioz surely felt when writing it. It also gets in the way of the main subject's canonic exposition, and the composer thankfully cut it when the commission fell through.
Vladimir Ashkenazy isn't on this showing a born Berliozian, and the carefully constructed perorations of the first and last movements don't quite come off. The orchestra, however, is in great shape – not least the viola section when it gets away on its own in the third movement – and Ondine's realistic recording lets one hear their every nuance. David Aaron Carpenter plays with consistently beautiful and eloquent tone.
The Paganini Sonata, somewhat unmusically placed after the Berlioz, holds no terrors for the soloist, who maintains an admirable quality of sound in runs that reach all the way up to a top G. The artificial harmonics are uncommonly clean, with spot-on intonation, as are the many double-stopped passages. This Paganini recording will surely achieve classic status, alongside Atar Arad's from the 1970s.
Carlos María Solare