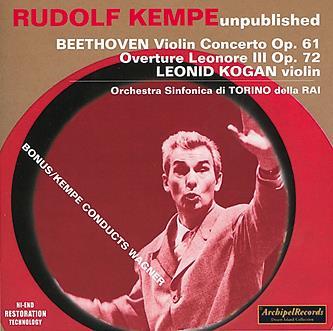 The Strad Issue: January 2006
Musicians: Leonid Kogan (violin) RAI Symphony Orchestras, Turin & Rome*, Rudolf Kempe (conductor)
Composer: Beethoven, Wagner
Whereas Heifetz never plumbed the depths of the Beethoven Concerto and Oistrakh rarely did so, Leonid Kogan seemed to have the measure of it from the outset. This 1956 Italian radio recording is the earliest of his many versions and despite an annoying flaw, it will interest fans of both Kogan and Rudolf Kempe.
A note on the back inlay warns us of a 'very light drop-out' in the first movement. What we actually get are two tiny breaks in the master-tape near the start of the second movement. The sound is very acceptable and the performance as a whole is glorious.
Kempe, as in a performance I heard him give with Perlman, proves the ideal partner and the Turin orchestra plays well for him. Despite this, the first movement – with the Joachim cadenza, as usual with Kogan – is superbly knitted together, proceeding serenely yet with a sense of purpose.
Apart from the jumps, the Larghetto is very beautiful. I think Kogan pulled it off even better the following year with Van Otterloo (Testament), so the uncommitted should head for that performance in preference. The finale is wonderfully springy and athletic but never trivial. The makeweights are fine, although the Wagner (with the Rome orchestra) cannot match Solti's one-to-a-part version (Decca).
TULLY POTTER