The three chosen quartets will compete for a first prize worth $150,000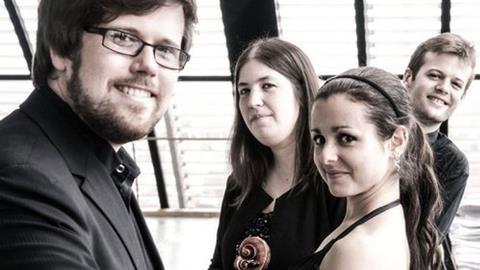 The 12th Banff International String Quartet Competition has named the three string quartets selected to take part in the finals. The ensembles have been chosen from ten competing quartets, who have performed in four live rounds in Banff, Canada over the past week.
The three quartets are:
Castalian String Quartet (UK, pictured)
Rolston String Quartet (Canada)
Tesla Quartet (Russia/South Korea/USA)
First prize, worth over $150,000, includes a cash award of $25,000 in addition to a three-year artistic and career development programme of concert tours, residencies and recordings.
This year's jury includes Vera Beths (Rondom Kwartet); Denis Brott (Orford String Quartet); Gérard Caussé (Quatuor Via Nova); Yoshiko Nakura (Tokyo String Quartet); Geoff Nuttall (St. Lawrence String Quartet); Peter Salaff (Cleveland Quartet); and Alasdair Tait (Belcea Quartet).
Winner of the last BISQC in 2013 was the Dover Quartet from the USA, which has performed over 100 concerts per year throughout North America, South America, and Europe as part of its prize. Previous BISQC winners also include the Cecilia String Quartet (Canada, 2010); the Jupiter String Quartet (USA, 2004); the Miró Quartet (USA, 1998); and the St. Lawrence String Quartet (Canada, 1992).
For more information visit bisqc.ca.
Read: Banff International String Quartet Competition 2016 names 10 shortlisted ensembles
Read: Preparing for a string quartet career – some useful guidance by the Omer Quartet