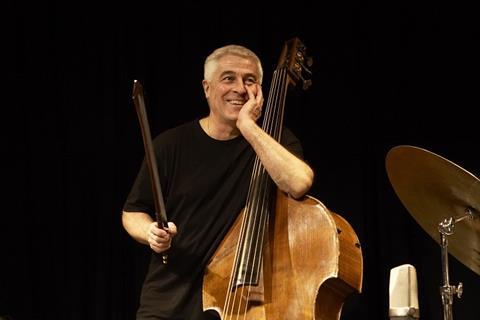 The following is an extract from a longer article in The Strad December 2017 – to read it in full, download the issue on desktop computer, via the The Strad App, or buy the print edition
When I was working with period orchestras, I used different instruments for specific eras of music – so at one time I had six double basses and a violone, which traversed the centuries! For many years I had the privilege of possessing the wonderful 1560 Gasparo da Salò 'Tarisio' bass. It produced the most magnificent sounds and colours, but was too fragile to travel with around the world. It was quite a deep-ribbed bass that took some getting used to, but ultimately was very rewarding. My many recordings on this instrument include the complete Mozart symphonies and Vivaldi's L'estro harmonico, both with the Academy of Ancient Music. I also used a Rivière & Hawkes bass from 1897 as an all-round instrument in many different ensembles for contemporary and improvised music.
My main instruments now are so-called travel basses, which have revolutionised my life. My favourite bass maker, Roger Dawson, constructed the prototype, which I still play with great joy. (He also made a wonderful violone for me, based on the 'Tarisio' bass, which I later used with five-string Viennese tuning for recordings of the Haydn symphonies with Christopher Hogwood.) Dawson's travel bass achieves the miraculous mixture of great pizzicato sound, crucial to my improvised musical life, and a very beautiful sound with the bow. These days, the travel bass moulds are in the possession of another fine luthier, Laurence Dixon, who has taken over the project from Dawson.
My most recent instrument is by the renowned French bass maker Jean Auray. It's a travel bass with fully detachable neck – a very beautiful instrument.
To read the full article, in which Barry Guy talks about his knack for cross-fertilising between musical styles and genres – not least in his Butterfly Series written for and recorded by his wife, the violinist Maya Homburger – download The Strad's December 2017 issue on desktop computer, via the The Strad App, or buy the print edition
Interview by Andy Hamilton