The writer, broadcaster and Menuhin biographer Humphrey Burton remembers meeting Yehudi for the first time in 1959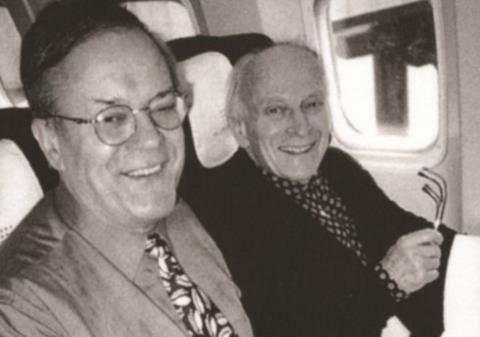 Humphrey Burton and Yehudi Menuhin. Photo Christina Burton
The broadcaster and biographer of classical musicians Humphrey Burton, who has been named a CBE (Commander of the British Empire) for services to classical music, the arts and media in the New Year's Honours list, worked with Yehudi Menuhin on many radio and television programmes throughout his career. Those recordings, and the two men's long-standing association, culminated in Burton's Menuhin biography Menuhin: A Life, published in 2000.

A key figure in many of British television's early flagship arts programmes, Burton had entered the BBC as a sound studio manager in 1955, and in 1958 he joined the production team of a new television arts series, Monitor. He first met Menuhin the following year, when Burton was assigned to direct the violinist in an interview about Bartók's Solo Violin Sonata. Interviewed for The Strad's Menuhin Centenary issue in 2016, Burton described the encounter that resulted in a lifetime's friendship.
I was a production assistant at BBC Television, directing for the Monitor arts programme, when I first met Menuhin in 1959. He had come in to talk about Bartók, and the Solo Violin Sonata in particular, which he had commissioned during the war. Being a fan of Bartók's music, I was only too pleased to be given this assignment. Menuhin carried an aura that could be overwhelming, and I remember my preliminary trepidation, but he responded to my direction in the most gentle manner and was exceptionally eloquent. He spoke directly to the camera; I think he memorised his script. He was a pro. Yehudi could pontificate beautifully and he always had a marvellous fund of stories and an ability to deliver a memorable phrase on the spur of the moment.
Yehudi often came to the BBC TV studios to play concertos and chamber music before the cameras, but with the Monitor film we got some of the earliest footage of him in conversation. He had brought along to the Maida Vale studio his fiddle and his wife Diana, and as we changed the 35mm reels between takes she would sit peeling lychees for us to eat and throw out the occasional witty remark. They had recently moved to London from California where his family lived, and had first built a summer chalet in Gstaad, Switzerland, before moving to London, where they already had many friends.
By the time I started work on my biography of Menuhin I had an overview of his life through various television projects, including his partnership with Ravi Shankar for BBC 2 and also a series of radio programmes I made with him for Classic FM in 1996, for his 80th birthday, which are currently being repeated on Sunday evenings at 9pm. Menuhin loved sharing his music – he was the most prolific recording artist in the history of the violin, even more so than Heifetz – and the Classic FM programmes were full of excerpts from his recordings, including some unusual works such as a transcription for violin by Berlioz of one of his operatic arias, Reverie et caprice; and a Berceuse by Lili Boulanger, which he recorded with Clifford Curzon. Even in his seventies Yehudi was still playing with a lovely sound – always intelligently phrased and eloquent. I don't share the view that he played long after he should have stopped: even when problems with his right hand affected his intonation and his bowing arm was no longer 100 per cent reliable, he had the ability to touch the soul in a way other violinists could not.
Those radio programmes became the basis of my biography, and Yehudi was happy to collaborate on my work, which made his death in 1999 all the more sad for me. I like to think that he comes alive on those pages, although his recorded legacy is what will keep the Menuhin tradition alive.
To read the full article published in The Strad May 2016, in which Menuhin's friends, family and colleagues recount their memories of the violinist, click here to log in or subscribe.
Read: Pekka Kuusisto on Vivaldi's Four Seasons
Read: Patricia Kopatchinskaja on Schumann's Violin Concerto