The Strad's editor Charlotte Smith introduces the April 2020 issue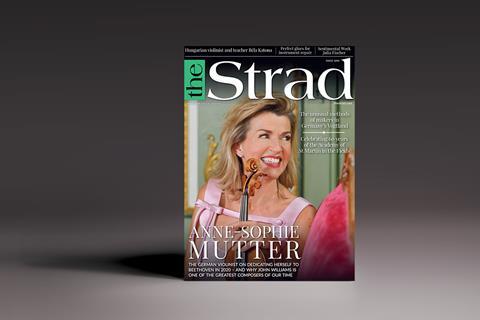 Among Mutter's musical partners in the past year have been pianist–conductor Daniel Barenboim and cellist Yo-Yo Ma, with whom she has performed the 'Triple' Concerto in locations including Paris, Berlin and Buenos Aires, and recorded the work for release in March. That album follows Mutter's Across the Stars recording with film composer John Williams in 2019, at first glance a collaboration more about fun than highbrow artistry, but which she describes as no less revelatory than her relationship with Karajan. On page 28 I speak to Mutter about her Williams and Beethoven projects, and discover an equal passion for both.
Collaborations draw together a number of other articles in this German-themed issue. On page 106 Julia Fischer speaks about her lifelong relationship with Bach's 'Double' Concerto, a work she has performed with numerous leading violinists, including Augustin Hadelich – who shares the second part of his Masterclass on the first movement of Beethoven's Violin Concerto on page 78. Fischer also speaks about working with the Academy of St Martin in the Fields, which this season celebrates its 60th birthday. On page 48 Toby Deller speaks to long-serving members of the chamber orchestra's string section about their collegiate method of working together, and about the transition from artistic leadership by Neville Marriner to Joshua Bell. Finally – and perhaps a little tenuously – this month's In Focus instrument on page 65 is by Joseph Fischer, a near-namesake of violinist Julia!
Charlotte Smith editor
Email me at thestrad@thestrad.com or tweet @TheStradMag