The Strad's editor Emma Baker introduces the July 2023 issue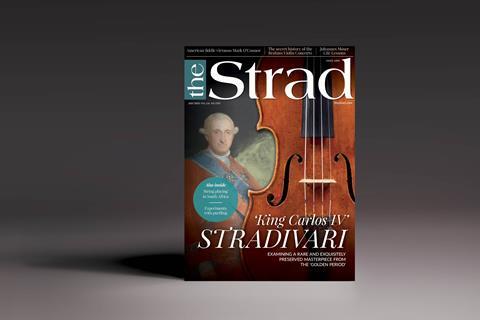 The cover of The Strad this month features one of Antonio Stradivari's most striking masterpieces, the 'King Carlos IV' violin of 1709. Made during the master's 'golden period', it is a superb instrument that's in an equally superb state of preservation. On page 26 Florian Leonhard takes a close look at the history of this beautiful violin that began its life as part of a collection owned by Spanish royalty.
From 18th-century Europe we travel to present-day South Africa, where on page 40 the UK-based, South African-born double bassist Leon Bosch reports from the South African Strings Foundation's first ever in-person convention in Gqeberha (formerly known as Port Elizabeth). The foundation was set up to advance string playing and teaching in the country, which has always seemed to punch above its weight when it comes to producing world-class players. And on page 64 we visit pioneering luthier Svend Christensen's workshop, situated in the hills outside Johannesburg, where he works in scenic but sometimes challenging conditions.
Another brave and original musician is the virtuoso US fiddle player Mark O'Connor, who has recently released an autobiography. On page 34 he talks to Alexandra Petropoulos about his career, his early years as a musical prodigy, and how he is passing on his knowledge to the younger generation of players though his summer string camps.
These days, it is without question that the Brahms Violin Concerto is considered one of the great cornerstones of the repertoire, but when it was first performed by its dedicatee Joseph Joachim in 1879 it was greeted with puzzlement, and even rejected by some male players and conductors. On page 46 Tatjana Goldberg explores how we have four brave female violin virtuosos to thank for tirelessly championing the concerto in its early years, and recognising it for the masterpiece that it is.
Emma Baker editor
Email me at thestrad@thestrad.com or tweet @TheStradMag