For maximum thrills, it's hard to beat an electric violin at full throttle. There are many factory models, but here Christian Garrick test-drives some of the most innovative handmade instruments available today
This article appears in the 2019 Accessories supplement, available with the June issue
For many, pitting classic violins against electric violins is like comparing fine dining with street food – both are tasty but very dissimilar. Fortunately for us fiddle players each type shares the same core fundamentals of fingerboard, bridge and strings.
Electric violins have been around for almost 100 years – even longer than the guitar variety. Indeed, we've been amplifying our violins throughout the history of jazz, popular and rock music in one way or another ever since Stuff Smith began experimenting with National pickup systems in the 1930s.
A pure electric violin depends on an electric current to radiate sound, whereas an electro-acoustic instrument is a hybrid, retaining the traditional sound chamber of classic violins and working both plugged in or unplugged. Step back further still and you can fit a standard violin with a microphone for extra volume. I find there is a use for each variant in professional life, depending on the musical setting. In this article we'll focus primarily on the full electric type.
A culture around the electric violin has sprung up quite suddenly in the past 25 years. Now it's a global phenomenon. The trend for electric violins seems to have mushroomed in tandem with the growth of the internet and now there is a huge scene of electric violinists, many of whom are online performing pop and rock covers. To supply such demand, incredible things are happening in the electric violin making universe.
Witness the distinctive flying-V shaped Viper violin by Mark Wood, the fully MIDI synth-ready violins from Zeta, the exotic creations by mavericks like Australia's David Guscott, and perhaps the most quintessential of futuristic violins – the 3DVarius, a 3D-printed premium electric violin from France. But with so much choice, selecting an instrument might seem an impossible task. My advice is to try out as many as you possibly can, either at a specialist music store like Moseley Violins in the UK and Electric Violin Shop in the US, or ask teachers, friends and colleagues if you can try theirs. What are the advantages of an electric violin? There are many:
An electric violin has zero feedback at highly amplified sound levels
You can play in loud environments, for example with electric guitars, drums and brass
Using a robust electric violin preserves a valuable and delicate acoustic instrument from potential damage in hazardous workplaces
Electric instruments come in a range of radical shapes and dazzling colours
The wow factor of an electric violin can convey your individuality and personality and increase your stage presence
You can extend the usual four-string range with instruments that boast five, six, seven or even eight strings
Effects processing lets you explore new sound worlds, and looping devices give you the power to layer bass-lines, chords and melodies on your own
You can practise using headphones without disturbing anyone around you
The one thing I'd say for sure about electric violins is they're fun – so much fun. Imagine the dream violin you might unwrap at Christmas as a kid. It doesn't look like one of those normal ones everybody has at school. Like the best noisy toys it goes super loud and impresses your friends, and that's all before you've played a single tune. That's the fun an electric violin can bring, but are they also sensible music making tools? I think all of the instruments mentioned here certainly are.
When choosing an electric instrument, a key factor to consider is how it is constructed, and whether it is handmade or produced in a factory. Depending on how much personalisation you need, Yamaha's factory-produced instruments and others are perfectly serviceable – and popular – but the handmade route is best if you want customisation possibilities. Wooden models have an aesthetic appeal similar to that of classic violins and, correspondingly, feel more organic and warm to the touch. Acrylic designs have a space-age look and can be lighter and tougher. Some models are fretted, adding another kind of visual appeal, while others offer a fretted-looking finish if you prefer playing on a regular smooth fingerboard. Whichever material and design you prefer, it's good if possible to try before you buy, so you can check out the instrument's weight and balance, and make sure the fit is comfortable.
The one thing I'd say for sure about electric violins is they're fun – so much fun
One of the big choices is the number of strings to go for. For a first instrument, a regular four-string violin offers all you need. I might suggest saving an extended range violin, with five, six or seven strings, until you're ready to bring a second electric instrument home.
Then there are some technical considerations. Check that the locations of the jack socket and headphone socket don't hamper the player or bow. Common placements are underneath, leading away from the body, towards the body or vertically; some sockets are neatly integrated into the chin rest. It's worth considering the positioning of the tuning gear too – you'll find that many new models of electric violin come fitted with innovative geared tuning pegs.
Inevitably, price may be a deciding factor, but be careful – an electric violin is a precision-made instrument, so even if there are many attractively priced instruments advertised online, remember that you get what you pay for. Many makers offer their instruments as part of an entire kit (violin, case, bow, rosin, cable). Some, such as Ted Brewer, make instruments that include such eye-catching gimmickry as flashing LED lights when played.
For this article I was fortunate to be able to try a broad representation of the electric violins available today from around the world. The UK is home to an abundance of the world's top innovators and I was lucky enough to include work by David Bruce Johnson of Violectra and Paul Bridgewater of Bridge. Other violins came from the US, the Czech Republic, Germany and France.
Above all, I was struck by how completely different each of these violins felt under the chin, and this reminded me of my beginnings. When I started violin aged four with the Suzuki method I set about building a violin from household scraps – a school ruler taped to a cereal box for the neck and soundbox, and to simulate a bow, a rubber hoop suspended, pendulum-like, from a length of kitchen string. Such fun and visceral early experiences helped me towards an appreciation of the consideration of the physiological side of the violin–human relationship – something which is of paramount importance when approaching any new instrument.
ZETA (US)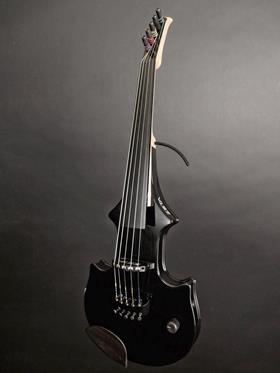 Zeta has been legendary for years, thanks largely to the patronage of French jazz violinist Jean-Luc Ponty. For me, the Zeta Jazz Fusion is the king of electric violins. After a halt in production some years back, Zeta are back making their instruments again. It's also worth mentioning that Evan Fourness, formerly of Zeta, is making his own great Zeta-inspired instruments right now.
The classic height-adjustable Zeta Jazz Bridge is unique in having two piezo pickups on each string. Its speciality is that it emits virtually zero bowed-note noise in the sound, allowing you to inhabit an evocative synth-like sound world.
VIOLECTRA (UK)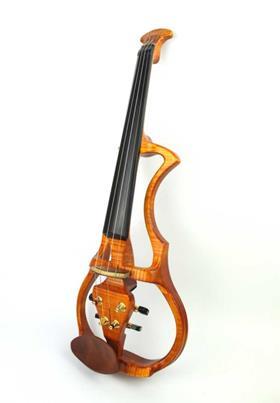 These beautifully designed and crafted skeletal violins have a certain visual similarity to the practice violins of the 1800s. The Violectra's own piezoelectric bridge system yields a characteristically light and fizzing electric tone. String action is quite low, which, in turn, allows fast and fluid playing.
Tuning pegs are the geared machine head guitar variety. The positioning of the tuners, at the chin end, makes grappling to reach them to tune the lower strings rather tricky with the violin in playing position. The jack socket is found underneath and is angled towards the player's chest. The instruments are, above all, very approachable, light and eminently playable, and are available in a multitude of colours and finishes.
JORDAN (US)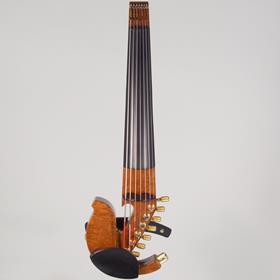 John Jordan's instruments stand at the pinnacle of electric violin design and construction. They come with four, five, six or seven strings, and you can indulge in a massive choice of colours and finishes. In terms of playing, my own seven-string flamed maple instrument is a whole study in octave range.
Rather like the Violectra, the tuning apparatus is the machine head variety and is located at the tail end of business where it can be awkward to control in playing position. The instruments themselves are physiologically marvellous to hold and to play. Their Barbera bridges emit a characteristic EV tone that is even and balanced across all strings.
NS DESIGN (CZECH REPUBLIC)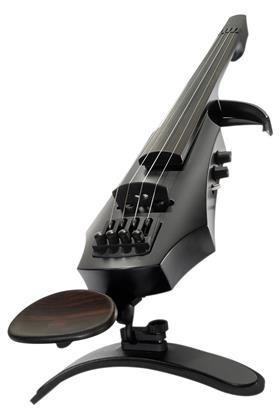 I tried the four-string NXTa variant of the Ned Steinberger range. This diminutive instrument is one of the farthest removed from a classic violin. It is the lightest on trial here (just 585g), comes in its own clever custom case, and has a unique chin and shoulder rest system that you can fine-tune to your favoured position. I also like the chunky fine tuners and found these satisfying to use when in the playing position.
The jack socket is located underneath, leading vertically, and does not impede the player. Controls are volume, gain, tone, as well as a novel toggle switch for arco or pizzicato attack which I found more practical in a studio rather than an on-stage scenario. Like with the Violectra, I found the string action to be quite light and low, but I warmed to the action after more playing time.
I found the arc of the bridge to be logistically a little odd at first, especially around the A string, which is tough to pick out cleanly at first, but once again this isn't a deal breaker given time. The transducer bridge produces a good, thick amplified sound at the lighter end of the spectrum but nice and even across the instrument.
GLASSER (US)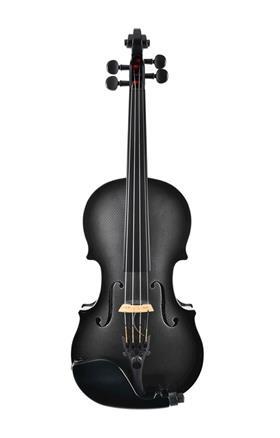 I was pleasantly surprised with these new electro-acoustic carbon fibre creations from New York City. Andrew Glasser sent me four- and five-string variants, both of which feature the same Bartolini pickup technology, which is ingeniously integrated into the chin rest. Excellent Planetary geared pegs are standard equipment, as are traditional fine tuners in the tailpiece.
First impressions are that these violins are a bit on the heavy side, but once in playing position the shoulder bears most of that weight. The immediacy of response when plugged in is lightning. The whole range of the instrument sounds balanced with a satisfying fat tone. The violin is great for jaggy, intervallic bop-style playing in particular. The jack point on the left end of the chin rest is unusual, but doesn't impede the player as the instrument cable can drop safely out of the way over the left shoulder. I like how the volume, treble and bass control knobs are all cunningly integrated into the custom chin rest. For its versatility as an acoustic instrument too, I give the Glasser a high recommendation.
BRIDGE (UK)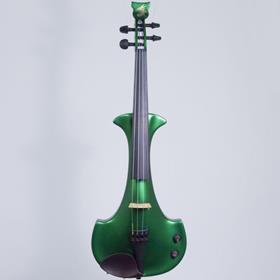 Stylish and ergonomic, with seductive curves, Bridge's Aquila Dragon violin is extremely comfortable under the chin, light in weight but solid, not flimsy. A jack socket underneath, angled away from the player, is allied with volume and tone controls on the belly. The instrument has a fully comprehensive tuning set-up with both geared pegs and fine tuners on board. I like the rather high string action which you can really attack with the bow.
The Kevlar and carbon fibre construction lends the violin a light and agile feel, but the instrument is nonetheless solid and robust. It gives a rich, mellow, and somewhat darker tone than others.
FIDELIUS (GERMANY)
These instruments are hand-carved from fine woods by Ulrich Schwabe. His extensive catalogue is topped with the show-stopping Octopus, a monster eight-string electric violin tuned Eb-Bb-F-C-G-D-A-E, but I tried two of his other creations. First up was an F-Trad.-6 model, and then a 'Stag Beetle' model, both in six-string format, dipping all the way down to a juicy low F. Admittedly, these violins are at the heavier end of the scale. The 'Stag Beetle' is especially robust, but this is unsurprising given that these violins are uncompromisingly constructed in solid woods.
I found the Trad. type more suited to my playing habits, whereas the neck of the 'Stag Beetle' was less yielding to the thumb. Schwabe has developed his own transducer pickup system that offers an extremely rich and creamy tone which I liked very much. The 'Stag Beetle' has the edge here with a terrific thick and warm sound. Wittner geared pegs come as standard, along with a full spread of tailpiece fine tuners. A real connoisseur's choice.
In contrast to their mighty Cremonese cousins, electric violins don't gravitate to one single spiritual home but are made around the world using myriad materials to forge their wonderfully diverse shapes and forms. They are an iconoclastic symbol of the global proliferation that the internet has enabled, but distantly the debt they owe to the blueprint legacy of Stradivari, Guarneri 'del Gesù' and the other masters is distinct in each and every example.
I might gravitate to my trusty John Dilworth classic violins for most of my work, but there's no denying the excitement of firing up an electric, for all the fun that ensues in experimenting with different sounds and effects. The electric violin world is alive with quality and innovation, and players of all levels and budgets are blessed with a veritable smorgasbord of possibilities in a burgeoning culture which complements that of the classic violin.
An electric violin is an essential item for the progressive violinist and, for the ambitious player, high-end instruments are now so refined and customisable that the world is your oyster. Bon appetit!
The following makers also deserve attention
3Dvarius (France) Astounding-looking, expensive 3D-printed violins
Wood Violins (US) The range-topping Vipers are a no-brainer for the flamboyant player
Vector Instruments (Canada) Attractive high-quality hollow wood-based instruments powered with Barbera Multi-Transducer Bridges
Cantini (Italy) Competitively priced, fully MIDI-able instruments in the Zeta tradition
Ted Brewer (UK) Large choice with gorgeous acrylic violins at the top end – some with unusual button control systems
Guscott (Australia) His twin-necked, flip-over, ten-string creation is remarkable
Neolin (France) Superbly audacious instruments from Bodo Vosshenrich
MSI (US) Stunning violins from another ex-Zeta luthier now going it alone
Aurora (Brazil) Both wood and acrylic instruments with dramatic LED lighting options