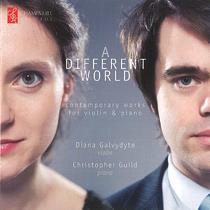 The Strad Issue: January 2012
Description: A fascinating survey of modern bravura violin repertoire
Musicians: Diana Galvydyte (violin) Christopher Guild (piano)
Composer: Barkauskas, Balsys, Schittino, Salonen, Sher, MacMillan, Watkins & Bacewicz
For this diverse and intriguing disc, Lithuanian violinist Diana Galvydyte brings together contemporary works from the mid-20th century onwards, exploring the notion of bravura violin. Many of the pieces are from the Baltic region, and familiar names – such as Salonen and Bacewicz, as well as Brits James MacMillan and Huw Watkins – appear alongside less well-known figures.
The opening five-movement solo Partita is a case of the latter, written by Vytautas Barkauskas, a leading light in Lithuania's avant-garde in the 1960s. It's detailed and gritty, and shot through with hints of rumba and blues. Galvydyte tackles it with incisive energy.
Joe Schittino's Poem 'Eglè', a premiere recording, stands out for its gorgeously impressionistic piano textures under the violin's melancholy wanderings – although some intrusive breathing mars the performance here a little, the recording is otherwise appealing for the clarity and immediacy of its sound. Salonen's Lachen verlernt is full of taut expressivity, carefully unfolded, and MacMillan's A Different World – which provides the title of the disc – is dreamlike and beautifully paced. Watkins's Partita shatters the mood with snarling, triple-stopped dissonance, although the violin soon takes off into more expressive explorations. It's all fiercely virtuosic stuff – Galvydyte certainly proves her mettle on that score, with sensitive support from pianist Christopher Guild – but it's also a disc of lesser explored treasures, with beauty radiating from the most unexpected corners.



Catherine Nelson