Milwaukee Symphony Orchestra concertmaster Frank Almond attacked with a stun gun on the evening of 27 January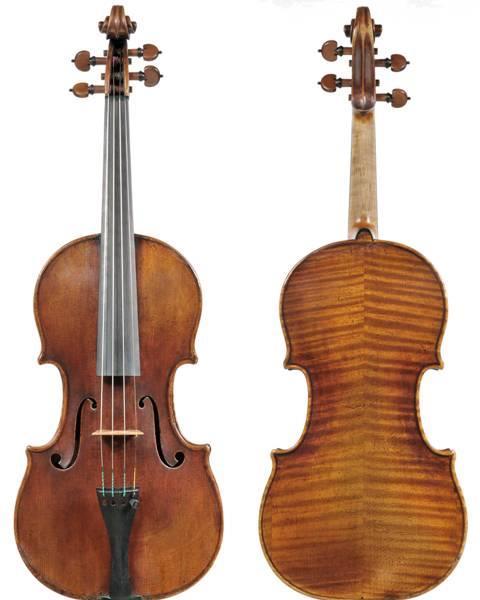 A 300-year-old Stradivarius violin has been stolen from Milwaukee Symphony Orchestra concertmaster Frank Almond in an armed robbery. The 1715 'Lipinski' Stradivarius (pictured) – named after Polish violinist Karol Lipinski and on loan to Almond from an anonymous donor since 2008 – was taken following a performance at Wisconsin Lutheran College on Monday evening as the violinist walked to his car. The thief attacked Almond with a stun gun, causing him to drop the instrument, and fled in a waiting car driven by an accomplice.
Milwaukee police chief Edward Flynn, who valued the instrument 'in the high seven figures', commented at a press conference that 'the artistic heritage of the City of Milwaukee' has been 'assaulted and robbed'.
According to Milwaukee Symphony president Mark Niehaus, Almond is currently recovering and will not appear on stage with the orchestra this coming weekend. The violinist recorded an album chronicling the 'Lipinski' Strad's history in August last year following a successful campaign to raise $30,000 through crowdfunding website Kickstarter. Released on Avie Records, the disc includes Tartini's 'Devil's Trill' Sonata, Lipinski's Caprice op.29 no.3, Schumann's Violin Sonata no.2, and Röntgen's Violin Sonata no.2 – all works associated with the instrument's owners throughout the past three centuries.
The Milwaukee police department is currently working with the FBI's Art Crimes Team to recover the violin, which they believe 'is valuable to a very small number of people in the world and is not something easily sold for what it is worth'.
The getaway vehicle has been described as a late 80s or early-90's maroon or burgundy Chrysler or Dodge minivan. Anyone with information relating to the theft has been asked to contact the Milwaukee Police Department on +1 414 935 7360 or the Milwaukee Symphony Orchestra on +1 414 226 7838.
Among the 'Lipinski' Strad's previous players are Joseph Joachim and Giuseppe Tartini. Before it was loaned to Almond in 2008, however, the instrument had not been heard in 20 years; the last person to play it in public was the Estonian violinist Evi Liivak, who died in 1996