The British cellist was the first black musician to be named BBC Young Musician in the competition's 38-year history in 2016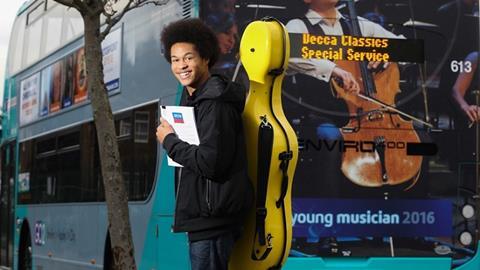 Decca Classics has signed a 'major new record deal' with 17-year-old cellist Sheku Kanneh-Mason - winner of BBC Young Musician 2016 and the first black musician to win the award in its 38-year history. The British musician's first recording will feature Shostakovich's Cello Concerto no.1, the piece with which he won the BBC contest.
'It is a great honour for me to be joining the Decca Classics family and following in the footsteps of great artists like Mstislav Rostropovich, my musical hero,' said Kanneh-Mason. 'I'm excited to take the next step on my journey and look forward to bringing my passion for classical music to a wider audience.'
Decca Classics managing director Dr Alexander Buhr commented: 'Sheku is an astonishingly gifted young musician with incredible energy and a burning passion for his music. We are thrilled to be partnering with Sheku to help foster his remarkable talent through ongoing support for his musical studies and opportunities to record with leading artists. I can't wait to see him grow and develop in the coming years and we will be by his side every step of the way.'
A student of Ben Davies at the Junior Royal Academy of Music, where he holds a junior scholarship, Kanneh-Mason is a member of the Chineke! Junior and Professional Orchestra, set up by double bassist Chi-chi Nwanoku in 2015. He also performs in the Ash String Trio and the Kanneh-Mason Piano Trio. Last year he was featured, alongside members of his family, in the final of the UK variety programme Britain's Got Talent.
The Nottingham cellist signed his record contract on board his own bus, named after him by the City Council following his BBC Young Musician triumph.
Watch: BBC Young Musician cellist Sheku Kanneh-Mason performs on Britain's Got Talent
Photo: Shawn Ryan