The 2016 BBC Young Musician-winning cellist used the instrument to perform in the competition final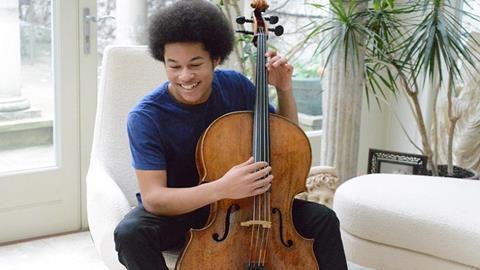 2016 BBC Young Musician-winning cellist Sheku Kanneh-Mason has received a 1610 Brothers Amati cello on permanent loan.
The instrument was originally loaned to the 17-year-old for his performance in the final of the BBC contest at London's Barbican and for his Royal Festival Hall debut earlier this year through Florian Leonhard Fine Violins. The dealership has now facilitated the permanent arrangement 'with the help of a generous anonymous sponsor based in London.'
'I immediately fell in love with this cello in the Spring and I am thrilled,' said Kanneh-Mason. 'The cello has been bought and is on loan to me from a private collection. I can hardly believe that I can continue to develop my relationship with this cello, making the sound more completely my own over time. This is a cello that will grow with me and respond to what I need to express.'
In November the young British cellist signed a major new record deal with Decca Classics after becoming the first black musician to win the BBC Young Musician competition in its 38-year history.
A student of Ben Davies at the Junior Royal Academy of Music, where he holds a junior scholarship, Kanneh-Mason is a member of the Chineke! Junior and Professional Orchestra, set up by double bassist Chi-chi Nwanoku in 2015. He also performs in the Ash String Trio and the Kanneh-Mason Piano Trio. Last year he was featured, alongside members of his family, in the final of the UK variety programme Britain's Got Talent.