The grand prize goes to Russian Renaissance, while the Argus Quartet takes home the top prize in the Senior Strings category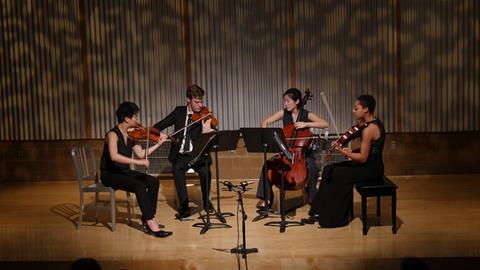 Russian Renaissance has won the grand prize at the University of Michigan's M-Prize Chamber Music Competition. The group, comprising balalaikist Ivan Kuznetsov, domra player Anastasia Zakharova, button-accordionist Aleksandr Tarasov and contro-balalaikist Ivan Vinogradov, receives $100,000 – the most substantial prize for chamber music in the world, according to the competition – as well as concert engagements.
First prize in the Senior Strings category goes to the Argus Quartet (pictured), which earlier this month was named the Juilliard School's graduate string quartet in residence and was one of ten shortlisted groups at the 2016 Banff International String Quartet Competition. The quartet, comprising violinists Jason Issokson and Clara Kim, violist Dana Kelley and cellist Joann Whang, receives $20,000 for its M-Prize win.
First Prize in the Junior Strings category, worth $5,000, goes to the Astera String Quartet - violinists Hannah White and Ria Honda, violist Kayla Cabrera and cellist Annamarie Wellems.
Last year's inaugural M-Prize went to the Calidore Quartet from New York.