University of Michigan School of Music chamber music competition fails to survive departure of dean who championed it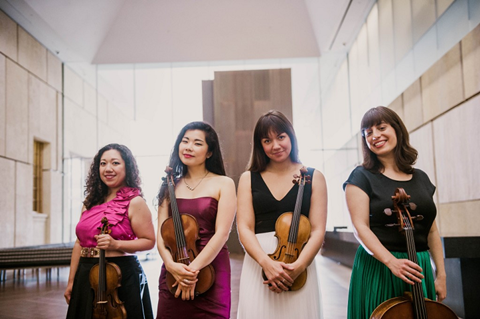 The M-Prize, a chamber music competition with $100,000 grand prize based at the University of Michigan School of Music, Theatre & Dance (SMTD) in Ann Arbor, will not be returning for a fourth edition in 2019. A statement said that the SMTD 'has regrettably determined that financial support for the competition cannot be sustained'.
The prize was announced in October 2015 as the biggest chamber music competition in the world, with its inaugural event receiving 172 applications from 13 countries and distributing a total of $199,000 in prize money. It operated strings, wind and 'open' categories, as well as a junior section. The first grand prize (2016) went to the Calidore Quartet, the second to the folk-inspired and open category winner Russian Renaissance (in 2017), and last year to the Aizuri Quartet (pictured).
It was launched by Sphinx Organisation founder Aaron Dworkin, who had then just been appointed dean of the SMTD. His tenure was shortlived, however, and it is speculated that the M-Prize was always unlikely to survive without his patronage and fundraising network.
'We are profoundly grateful to U-M Office of the Provost and an anonymous donor, both of whom made it possible for SMTD to run the competition for three inspirational years,' said Matt Albert, chair of SMTD's Department of Chamber Music, who served as the competition's artistic director.
'We are also grateful for the vision illustrated and spearheaded by the faculty Steering Committee and former dean Aaron Dworkin. It has been a great honor to work with the committee, our extraordinary jurors, and SMTD's administrative team in bringing M-Prize to life, and it has been a joy to witness, first hand, the spectacular talent that is making the future of chamber music so rich and so assured.'
In an email to stakeholders, Albert wrote:
'As our financial resources changed, we explored multiple avenues to keep it going beyond its initial three year launch. Unfortunately, none of them was sustainable for the School, and the M-Prize held this past May will have been the last one supported by this initiative.'