Your rough guide to the string music business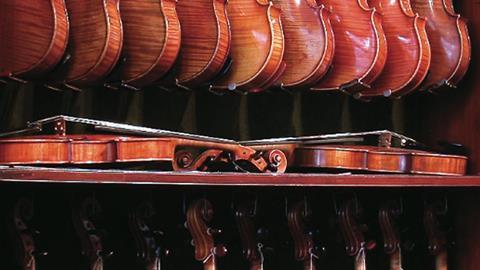 1 House surveys are standard practice, so why not instrument surveys?
The case of the violin dealer Dietmar Machold shows how easily some musicians will part with money without knowing an instrument's worth. Roger Hargrave argues that buyers should insist on full condition reports
2 The stolen instruments of the Third Reich
Carla Shapreau exposes the systematic theft of stringed instruments under Hitler's rule, and today's efforts to locate them
3 Drawing the line with student–teacher relationships
A string player discusses the contentious issue of student–teacher relationships in and out of the conservatoire. Where does responsibility lie?
4 Can you tell a fake instrument from the genuine article?
With more and more instrument forgeries finding their way on to the market, how do experts, dealers and buyers stay wise to deception? Femke Colborne finds out
5 How to develop great performing presence
Great stage actors have an aura of positive energy and openness that string players can access, too. Acting coach Patsy Rodenburg explains how
6 Buying an instrument – a comprehensive guide
Purchasing an instrument is as much about rigorous auditioning as it is about falling in love. Violin maker Guy Rabut recommends a step-by-step approach to finding the ultimate partner
7 Is popping pills the sure way to beat performance nerves?
Catherine Nelson talks to musicians and medical experts about the risks and benefits of Beta Blockers, and why their use is still such a sensitive subject
8 Commissioning a new instrument – a guide for players
Commissioning an instrument can be an exciting prospect, but as a creative journey it can have its ups and downs. John Milnes considers how both player and maker can keep each other happy
9 How to market yourself as a string player
You need flexibility and business acumen as well as talent to stand out from the crowd in today's rapidly changing music world, argues double bassist-turned-agent Corrado Canonici
10 What competition success did for my career – by six prize-winners
Seasoned competition goer Heather Kurzbauer considers the place of competitions today, and violin laureates discuss how their wins have helped their careers
Subscribe to The Strad or download our digital edition as part of a 30-day free trial.