Commissioning an instrument can be an exciting prospect, but as a creative journey it can have its ups and downs. John Milnes considers how both player and maker can keep each other happy.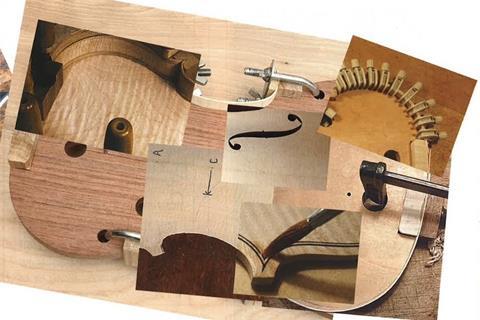 This article was first published in the February 2009 issue of The Strad. Although the general principles hold true, it is possible that individual makers quoted may have different practices now
Many players are brought up believing that old instruments are the best for sound and the best for value. But since an increasing number of players are chasing fewer and fewer classic instruments, it is worth considering commissioning a new one. 'In the last 30 years, more and more very good makers have come along,' says cellist Raphael Wallfisch. 'It is now much more normal for musicians to commission new instruments.'
Wallfisch himself is a case in point. Back in the mid-1970s, he had great difficulty in finding a reliable cello that he could afford, and so decided to commission a cello from Colin Irving. Three more by Irving followed, then instruments by David Wiebe, Wolfgang Schnabl, Eero Haahti, Roger Hargrave and Andreas Hudelmayer.
Wallfisch believes that a top-quality modern instrument can produce a robustness of tone and a range of tonal colour not always found in older instruments. And even if a player owns a fine old instrument, it can be useful to have a second instrument to rely on in challenging situations, such as playing outdoors or in a harsh climate.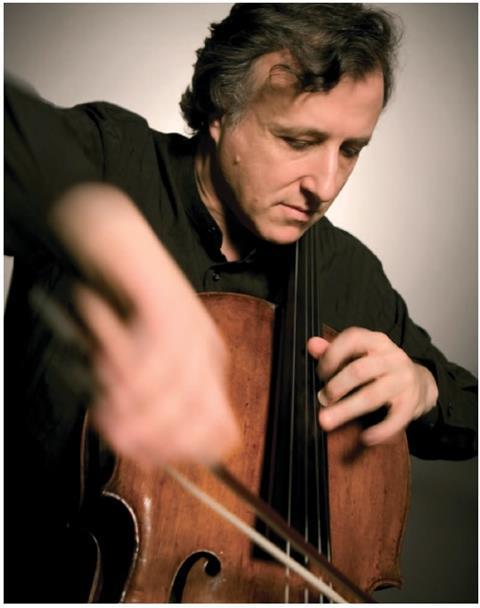 Musicians sometimes assume that old instruments are reliable, and worry that new ones are an unknown quantity that will change unpredictably. This should not be a major concern. New instruments do change, but in a predictable way. In the first few months of settling into playing tension, the soundpost will need some adjustment. After that, the instrument will give the best that the musician is able to draw out of it. Just like old instruments, new ones will have varied qualities and characteristics. And just like an old instrument, a new one may appeal immediately, may grow on you slowly, or may never become your partner in music.
Mere age doesn't make an instrument more reliable – except perhaps to confirm that some instruments are reliably bad. There does not seem to be any evidence that old instruments are like vintage wines, needing to be played in over several decades to reveal their fine bouquet of tonal colours. This is one example of the kind of idea offered to comfort buyers paying a premium price for an antique.
But commissioning an instrument may at first seem daunting. Supposing you are stuck with an instrument you don't like, one that's disappointing in the long run, or one that's difficult to sell on? These are reasonable concerns, but with a little planning and good advice they need not put the musician off.
And to balance such doubts, there is the enticing prospect of collaborating in the creation of something new – from discussing the sound you like, choosing the wood and following the making of the instrument to playing the very first notes on it.
In the first instance, it's a good idea to talk to musicians and teachers who have experience of new instruments. 'The right maker is in most cases found by hearing an instrument played by someone else in a concert or on another occasion,' says Igor Ozim, professor of violin of the Mozarteum, Salzburg. He owns seven new instruments, each with its distinctive personality, and has found the commissioning process a rewarding experience.
Try to be clear about your preferences. On the mechanical side, consider what makes a comfortable instrument. Is it a smaller model of cello? A slimmer neck? A deep-bodied, compact viola? The tonal side is more difficult to put into words. It can be helpful to take an instrument you admire and play it to the potential maker, or to identify an instrument that has already been completed and ask the maker to produce something similar.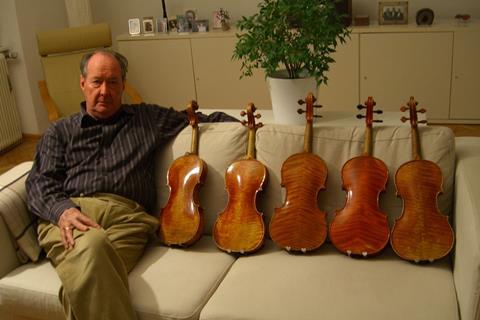 Visit makers to get a feel for their approach. Ask if there are instruments you can try out. If they have nothing in stock they may be able to borrow earlier instruments that have already been sold. And be patient. Makers will probably have a waiting list – a year or 18 months seems to be an average. But this gives you time to plan the details carefully. You can leave most things to the maker, or you can ask to discuss the wood, details of finish and varnish, and the model to be used.
Most makers follow models from the past, usually specifying that they offer a Stradivari or Guarneri 'del Gesù' model. But you may have fallen in love with a Maggini and want to own a close copy, including the wear pattern on the varnish. It will be clear within the first few minutes whether the maker is comfortable with starting on a new model just for you. And you may have to give a guarantee that you are committed to buying, especially if it is very out of the ordinary.
A more standard instrument can be sold on to someone else on the maker's waiting list in the event that you don't purchase it; an unusual instrument is harder to find a new home for. Established makers may indeed refuse to make something very distinctive.
Be aware also that some makers steer clear of commissions altogether. Patrick Jowett, maker and teacher at the Newark School of Violin Making, does not welcome them. For him, there is too much obligation involved, as well as the potential embarrassment that a player will not like the instrument. He prefers to make instruments that he feels comfortable with and leave them to find their buyer. California-based makers Joseph Grubaugh and Sigrun Seifert are wary of commissions because, like arranged marriages, they may work, but there is no way to tell in advance.
New York-based Guy Rabut both makes to commission and creates instruments to his own taste. This allows him to accommodate a wide range of customers (and do the kind of work that satisfies him). Some want to create an instrument similar to an existing one that they own or admire. Others simply like the pleasure of being involved in the process of creation, specifying neck shape and string length.
In contrast, Helen Michetschläger of Manchester, UK, makes almost entirely to commission. She makes a lot of violas and there is a particular advantage to commissioning in this case. Violas vary a good deal in model and size, and players therefore have much more control by going to a maker and discussing all the features from scratch.
TOP TIPS FOR COMMISSIONING
DO
Try lots of instruments and talk to other musicians
Try to be specific about your needs: 'A sound like this', 'A violin like this one.'
Ask to try an existing instrument, if possible
Be patient. Successful makers often have waiting lists
DON'T
Pressure a maker to make something they don't really want to make
Accept an instrument that doesn't work for you
Indeed, for many makers, a commission is a refreshing experience and ultimately has the unique advantage that the musician can specify exactly what is wanted. After all, it was this process of invention and evolution that created the violin family in the first place. To accept new ideas today keeps violin making moving forward, beyond mere repetition of past achievements.
One clear benefit for the owner of a new instrument is that it will be in peak physical condition. Old instruments can have wear and damage, not all of which may have been repaired well or fully. Daniel Phillips of the Orion Quartet counts 'robust health' as one of the many advantages of his 1993 Sam Zygmuntowicz violin. And players with new instruments don't suffer the stress of being responsible for an expensive antique.
'It is a great feeling to be playing on a fiddle that I can use successfully for all aspects of my career but one that is not a fabulously valuable museum piece, which means less anxiety when travelling,' says Phillips. 'Not that we don't greatly value the newer instruments, but touring with this violin is different to watching a 300-year-old work of art disappear into security X-ray machines several times a month.'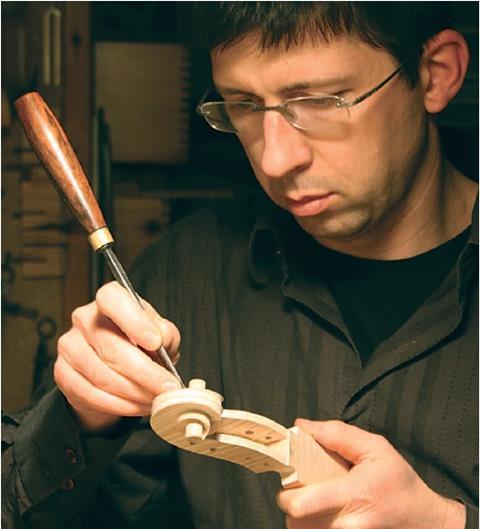 Some musicians may worry about what others will think if they turn up to rehearsals with a shiny new instrument. 'Yes, I've lived through all that,' says Raphael Wallfisch, '"Can't you afford something better?" or similar remarks.'
But this should be less of a difficulty if the instrument sounds good. There is also the option of getting the maker to start the process of ageing by rubbing away some of the varnish. 'Many makers today are very good at a little antiquing,' according to Wallfisch. Phillips says: 'My Zygmuntowicz was made pristine without any antiquing. It was stunning when new. I have since been antiquing it myself. I now use it most of the time. It is a fine orange-reddish colour, and at the end of a concert I am often asked if I was using my Stradivari.'
When it comes to doing business, most makers ask for a deposit to show serious intent, although agreements between makers and purchasers often vary in detail. Guy Rabut finds that a short, simple contract which briefly describes the project and the terms helps to avoid disappointment and makes the musician feel more comfortable. In contrast, some makers' 'contracts' may be no more than a verbal agreement to 'make me an instrument like this one'.
Customers vary a good deal in their interest in the making process. Some leave the maker entirely alone, but others like to call into the workshop often or to see pictures of progress. Most makers I spoke to welcome intelligent interest in the process as long as the customer accepts that the maker has the experience and knowledge to control how the making is done.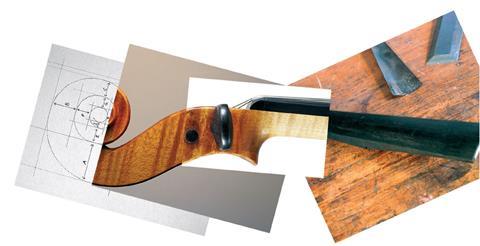 For some customers, Rabut has put a collection of pictures on CD as a permanent record of the creation of the instrument. Michetschläger says: 'Players get great pleasure from seeing work in progress and enjoy the sense of involvement and ownership.' She posts pictures on the web of the work in progress so that the future owner can follow the instrument's creation at every stage.
After the new instrument is purchased, it's common for makers to offer an open-ended commitment to looking after it and keeping it in peak condition. A satisfied musician is the best advertisement for a maker's work. 'I am always pleased to see how my instruments are progressing over the years and I provide free check-ups forever,' says Rabut.
London maker Andreas Hudelmayer is happy to make any necessary adjustments while the instrument is settling in during the first few years. If the maker is not committed to keeping the musician happy, then news gets around fast and a carefully nurtured reputation can be quickly damaged. Indeed, Hudelmayer asks the musician to bring the instrument in for adjustment after the first six months. It is very common for the body to settle and for the soundpost to become too loose, so the musician should return their instrument so that it can be readjusted to its peak performance.
What if the musician ends up with an instrument they're not happy with or don't want to keep? No maker likes to have a discontented customer spreading bad publicity, so most will do whatever it takes to sort out the problem or find a new owner for the instrument. It's unlikely that a maker will force a musician to keep an instrument they do not want.
'In our experience one unhappy owner equals ten contented owners in the bad advertisement that may result,' say Grubaugh and Seifert. 'When we do come upon a situation where a new owner no longer wants what we've made, we will offer to sell the instrument for them.' But if you're happy with your new instrument then you'll make its maker very happy by paying promptly when you get the bill. After all, good customers and good makers deserve each other.