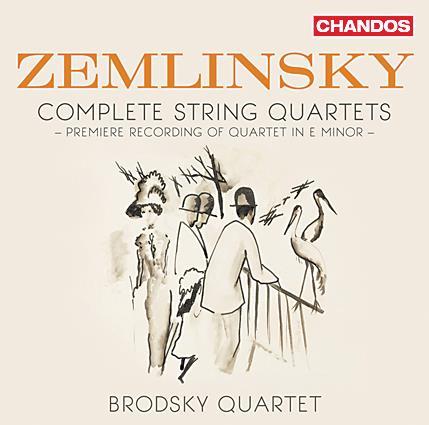 The Strad Issue: June 2015
Description: The Brodskys brilliantly traverse Zemlinsky's quartets from A to Z
Musicians: Brodsky Quartet
Composer: Zemlinsky
Hearing all Zemlinsky's quartets in one go provides an aural mini-biography of the composer and his influences: the unnumbered 1893 E minor Quartet and no.1 (1896) see him already enlarging on Brahmsian models; no.2 (1915) is an obvious response to Schoenberg's first two mature quartets and probably alludes back to Zemlinsky's fraught affair with Alma Schindler; no.3 (1924) is a sardonic response to 1920s modernism and New Objectivity; and no.4 (1936) is a poignant memorial to Berg, whose Lyric Suite (itself quoting Zemlinsky's Lyric Symphony) provides the model for its six-movement form.
The Brodsky Quartet has performed the numbered quartets in close proximity in concert and brings this sense of stylistic progression to its complete recording. It was made over the space of two weeks last June and gives the playing a feeling of unity along a journey that is almost as wide-ranging as Bartók's in the medium. There's Viennese charm in the early works (the E minor receiving its premiere recording here) and the expressive extremes are successfully exploited in no.2. The musical japes and textural sophistication of the Third bring out the best in the Brodsky's playing – wry, playful and rhythmically taut. And there's plenty of suavity and emotional depth in its account of the more lyrical Fourth.
Zemlinsky's quartets have been lucky on disc recently, with previous cycles from the Zemlinsky Quartet (Praga Digitals) and Escher Quartet (Naxos) praised in these pages. This new set – warmly recorded and with the added bonus of the recently rediscovered 1893 work – is every bit their equal.
MATTHEW RYE