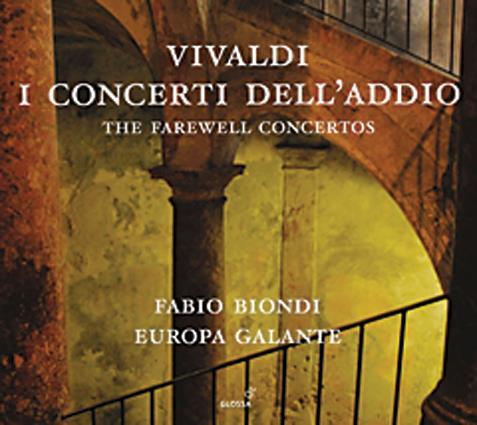 The Strad Issue: June 2015
Description: Late concertos from Vivaldi's Viennese years
Musicians: Fabio Biondi (violin/director) Europa Galante
Composer: Vivaldi
Vivaldi composed his 'Farewell' Concertos in his twilight years while searching desperately for creative opportunities in Vienna. Drawn from a collection currently preserved in Brno, the works on this disc confirm his sustained inspiration in the genre, and spur Fabio Biondi and Europa Galante to perform with their customary exuberance.
Ever provocative and stretching boundaries of tempo and bowing, sometimes to the point of scratchiness in the finale of RV371, Biondi delivers extrovert accounts which are full of perception, imagination, clarity and vitality, and often astonishing in their technical dexterity. He virtually spits out much of the solo passagework and even resorts to thrown bowings, notably in both allegros of RV273. Considerable attention is paid to detail: dynamics are extreme and articulation muscular and dramatic; fast movements are injected with a relentless drive and energy; slow movements are conveyed with shapely phrasing, flowing lyricism, inventive ornamentation and subtle expression. Memorable moments include the bravura solo passages of the finales of RV367 and RV390; the ornamented solo cantilena of the Andante of RV367 and the gondoliers' song in RV189; the pizzicato effects and cadenza of the Larghetto of RV390; and many more. The recording is close but conveys a welcome sense of space and separation.
ROBIN STOWELL