The violinist performed Bach's Chaconne on the instrument during a recent trip to Italy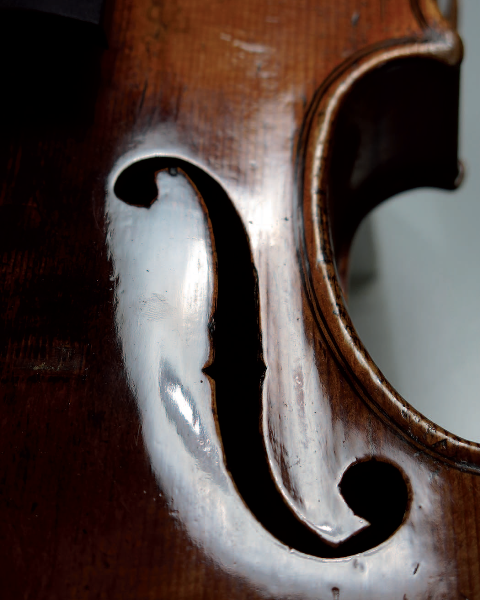 Visiting Giovanni Accornero at his home means playing at least two dozen top-quality violins ranging from modern to antique, discussing their qualities, comparing them with each other, and just having a lot of fun trying out different instruments.

During my last visit, one of the violins Giovanni showed me was the famous 'Salabue', 'Berta' Guadagnini, constructed in Turin in 1774. I was immediately fascinated by how effortlessly and sensitively it responded to my touch and the rich resonance, power and clarity of the sound. It played beautifully as soon as I laid my hands on it without needing time to warm up. The rich, dark brilliance of the tone quality and the resistance that allows the player to dig in and draw out the desired sound remind me of the violins of Guarneri 'del Gesù'.

Currently I play another fine Guadagnini, the 'Salabue', 'Castelbarco', constructed in Turin in 1776 and lent to me by the Peter Eckes Kulturfonds. I find that although there are some common basic characteristics, the two instruments are quite different from each other. The 1776 Guadagnini has a very refined and silky tone quality; the more I let it play naturally the more it responds and sings. The tone quality of the 1774 Guadagnini is darker and has a wilder beauty to it; it responds very well with more pressure and intensity. I had the privilege to record the Bach Chaconne with it and the sound was very well captured by the microphone. Even in the dry-sounding studio situation, its rich resonance, warmth of the tone, and easy response are not diminished. It is a truly unique and outstanding instrument and one of the best violins I have ever played.
Listen to Bin Huang performing Bach's Chaconne on the 'Salabue', 'Berta' Guadagnini below:
Subscribe to The Strad or download our digital edition as part of a 30-day free trial. To purchase single issues click here