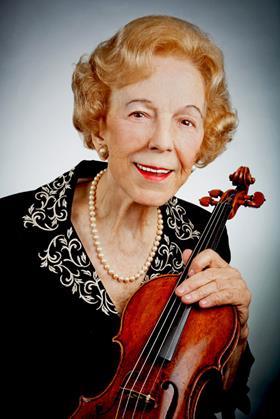 Veteran string tutor Alice Schoenfeld died on 25 May at the age of 98. An internationally acclaimed violinist, who for many years had a respected duo partnership with her sister, cellist Eleonore Schoenfeld, she taught at USC Thornton School of Music, California, for almost 60 years. She was also the founder of the Harbin Schoenfeld International String Competition and Schoenfeld International Music Society.
Born in 1921 in Yugoslavia, Alice Schoenfeld studied the violin in Berlin under Karl Klingler, a student of Joseph Joachim, and made her debut with the Berlin Philharmonic aged ten. In 1952 she and her family immigrated to the US, where in 1959 both she and Eleonore were invited to join the string faculty at USC. At first, they taught part-time while still maintaining their touring schedule, but eventually became full-time faculty members. Both Jascha Heifetz and Gregor Piatigorsky numbered among their colleagues at the school. Among Alice Schoenfeld's students were Anne Akiko Meyers and Suli Xue.
The sisters received the USC's Ramo Music Faculty Award for Excellence in Teaching, and the American String Teachers Association named them joint winners of the Artist Teacher Award in 1996.
In the 1980s both Alice and Eleonore were among the first internationally recognised musicians to visit communist China, after formal diplomatic relations had been established between the Chinese and American governments. On their recommendation, more than a hundred Chinese string students studying abroad received scholarship support.
Following Eleonore's passing in 2007, Alice Schoenfeld was recognised for her philanthropic work. In 2012 USC's concert hall was renamed after the sisters, and the Schoenfeld teaching chair was set up. In 2013 Alice donated $10m to establish the Alice and Eleonore Schoenfeld Endowed Scholarship Fund for string students.
With the help of her former student Suli Xue, Alice Schoenfeld co-founded China's Harbin Schoenfeld International String Competition. Held every two years, it now encompasses the violin and cello disciplines; in addition she initiated a chamber music category.
As a violinist, Alice Schoenfeld made many recordings for the BBC, including works especially written for the Schoenfeld Duo, and played in several broadcasts for TV and radio stations in Europe and the US.