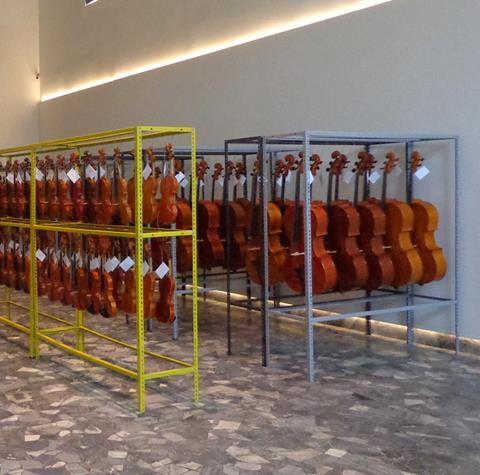 The winners of the 2015 Cremona Triennale lutherie competition have been announced. Although a total of 445 instruments were submitted for this year's contest, by 334 makers from 31 countries, only one instrument received a gold medal. French luthier Charles Coquet won the award for a viola; he also received the Walter Stauffer Prize for acoustic quality. As the only gold medallist, Coquet will also be given a free stand at next year's Mondomusica trade fair, taking place in Cremona from 30 September to 3 October 2016.
In the violin category, Canadian Viateur Roy and Italy's Davide Sora won the silver and bronze medals respectively. Sora also received a special prize from the Polish Union of of Violin Makers, for the violin with the best acoustic qualities. Roy won a second silver medal in the cello category, where Sungdeok Seo of Korea took bronze.
As well as Coquet's gold medal, the viola category saw Spain's Borja Bernabeu take the silver, while Krzysztof Krupa of Poland won bronze. Bernabeu received an extra €1,000 prize as 'the best-classified foreign luthier who lives and works in Italy'. In the double bass section, Italy's Marianne Lenzini and Patrick Charton of France took silver and bronze respectively.
Several other special prizes were awarded at the ceremony, which took place at Cremona's Teatro Ponchielli on 23 September. Swiss luthier David Léonard Wiedmer received the Simone Fernando Sacconi award, reserved for contestants under 30 years of age. A cello by South Korea's Dong-Pil Im received the Pierangelo Balzarini award for the instrument with the best artistic and constructional qualities.
This year's jury consisted of luthiers Andrea Frandsen, Nicola Lazzari, Tetsuo Matsuda, Luca Primon and Raymond Schryer, who judged workmanship; violinists Francisca Mendoza and Massimo Quarta, violist Patrick Jüdt, cellist Michael Flaksman and Alain Ruaux, who judged tone; and jury president Paolo Salvelli, president of the Walter Stauffer Foundation. All winning instruments will be on display at Cremona's Museo del Violino until 11 October. Raymond Schryer's account of the competition and judging process will appear in the November edition of The Strad.
List of 2015 Cremona Triennale winners
Violin
1 Not awarded
2 Viateur Roy – Canada
3 Davide Sora – Italy
Viola
1 Charles Coquet – France
2 Borja Bernabeu – Spain
3 Krzysztof Krupa – Poland
Cello
1 Not awarded
2 Viateur Roy – Canada
3 Sungdeok Seo – South Korea
Double bass
1 Not awarded
2 Marianne Lenzini – Italy
3 Patrick Charton – France
Honorable mentions
Violin
Marcin Krupa – Poland
David Léonard Wiedmer – Switzerland
Gonzalo Bayolo – Spain
Jeff Phillips – USA
Ji Hwan Park – South Korea
Viola
Dong-Pil Im – South Korea
Philippe Mahu – France
Cello
Marcin Krupa – Poland
Hayato Nagaishi – Japan
Dong-Pil Im – South Korea
Alessandro Peiretti – Italy
Double bass
Edgar Russ – Austria
Photo: instruments ready for judging at the Cremona Museo del Violino. Image courtesy Raymond Schryer