We explore how cutting-edge technology is shedding new light on a rediscovered contralto Amati viola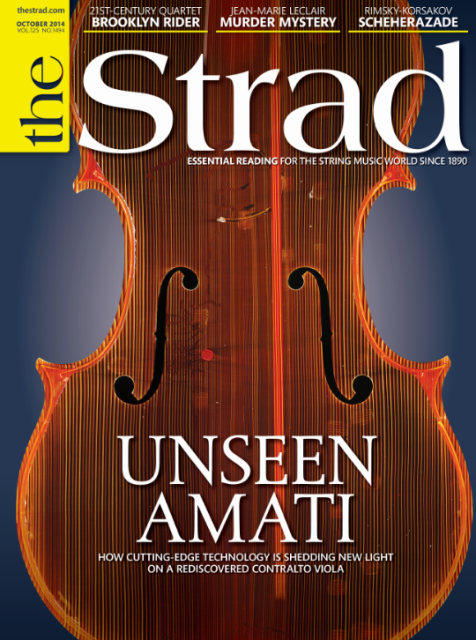 The October issue of The Strad is on sale now †• examining a rare and recently rediscovered 17th-century Amati viola using cutting-edge technology.
We also explore contemporary New York quartet Brooklyn Rider's most ambitious project to date; delve into the legacy Jean-Marie Leclair, founder of the French violin tradition, who met a grisly end 250 years ago this month; and examine the stories and craftsmanship behind the twelve instruments by Stradivarius and Guarneri 'del Gesù' featured in our 2015 calendar, 'Violins of the Stars'.
Plus the issue also includes the Accessories 2014 supplement, featuring articles on carbon fibre bows, chin rests, alternatives to ivory bow tips and tools used for quiet practice.
In our regular sections: In Focus gives a close-up view of a 1682 violin by Gijsbert Verbeek; Marcus Klimke discusses his method for reducing the length of a viola rib structure in Trade Secrets; Bamberg-based maker Carsten Hoffmann invites us into his workshop in My Space; Bart Vandenbogaerde guides us through Rimsky-Korsakov's Scheherazade in Masterclass; Simon Fischer describes soundpoint practice in Basics; violin tutor Emily Yaffe discusses how to train young beginners to listen to their sound and play in tune in Ask the Teacher; double bassist Christine Hoock takes us through her Practice Diary; and four luthiers advise on whether nicks and chips need to be fixed in Ask the Experts.
We also bring you news of the latest competitions, products and auctions, and comprehensive reviews of concerts, CDs and books.
The digital magazine is on sale now. The print edition is on sale from Sunday 28 September 2014. Subscribe to The Strad or download our digital edition as part of a 30-day free trial. To purchase single issues click here.