Our North America focus traces the story of American lutherie - from the days of the earliest settlers to the rise of lutherie hubs in New York and Chicago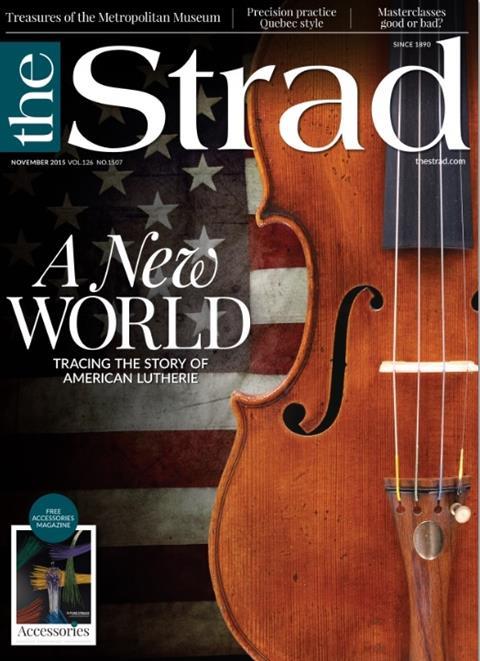 The Strad's November 2015 issue is on sale now - a North America special in which Philip Kass traces the history of American lutherie, from the aspirations of a few talented woodworkers to a multimillion-dollar industry.
Elsewhere in the issue, Pauline Harding reports from Domaine Forget in eastern Quebec - home of intensive string training through masterclasses, private lessons and chamber music; top-level musicians discuss the pros and cons of masterclasses and whether these short, high-pressure lessons with unfamiliar teachers are more of a hindrance than a help; Tully Potter looks back at the life and career of early 20th-century British cellist W.H. Squire; and Jayson Kerr Dobney tells the story of the Metropolitan Museum of Art instrument collection in New York.
Our free Accessories 2015 magazine also looks at the future of string making, instrument cases designed for flying, string players' favourite gadgets, and portable gear for gigging musicians.
In our regular sections: In Focus gives a close-up view of a 1920 violin by Frank J. Callier; Arnold Schnitzer and Keiran O'Hara share a quick and easy way for repairing divots on cellos and double basses in Trade Secrets; New Jersey-based luthier Robert Brode invites us into his workshop in My Space; double bassist Joel Quarrington discusses Bottesini's Elegy no.1 in D major in Masterclass; cellist Christoph Richter gives pizzicato tips in Technique; Schumann Quartet violinist Erik Schumann takes us through his Practice Diary; teachers give advice for students who have trouble bending their left fourth fingers in Ask the Experts; and US double bassist Edgar Meyer talks about Bach's Second Cello Suite as his Sentimental Work.
We also bring you news of the latest competitions, products and auctions, and comprehensive reviews of concerts, CDs and books.
The digital magazine is on sale now. The print edition is on sale from Thursday 22 October 2015.