Moldovan-born violinist Patricia Kopatchinskaja discusses music and subversion - and why 'art has space for everything'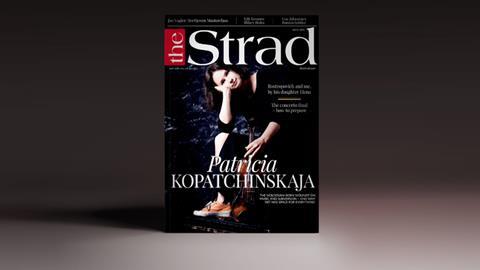 The Strad May 2017 issue is on sale now, in which Moldovan-born violinist Patricia Kopatchinskaja talks to Toby Deller about storytelling, finding her own vision and the importance of being true to one's own imagination.
Elsewhere in the issue, Pauline Harding asks players, conductors and jury members about the best ways to prepare for their first concerto performance in a competition; Elena Rostropovich, daughter of the great cellist, discusses her memories of being his accompanist and assistant, in conversation with Peter Quantrill; and cellist Guy Johnston talks to Charlotte Gardner about his 'Tecchler 300' project, marking three centuries of his Tecchler cello.
In our regular sections: Masterclass features Jan Vogler, who marks up the sheet music for Beethoven's Cello Sonata in A major op.69; In Focus gives a close-up view of a 1693 bass viol by Michel Colichon; Guy Cole shares his method for making a bridge knife in Trade Secrets; Canadian luthier Guy Harrison invites us into his workshop in My Space; double bassist Thierry Barbé gives tips on playing the instrument with small hands in Technique; US violinist Hilary Hahn shares memories and experiences in Life Lessons; a reader asks whether a cello tutor should ever teach beginner violinists in a group setting in Ask the Experts; and violinist Ning Feng talks about his relationship with the Sibelius Violin Concerto in Sentimental Work.
We also bring you news of the latest competitions, products and auctions, and comprehensive reviews of concerts, CDs and books.
The digital magazine is on sale now. The print edition is on sale from 28 April 2017.