Danish violinist Nikolaj Znaider and fellow soloist-conductors, including Joshua Bell and Maxim Vengerov, explain the attraction of the podium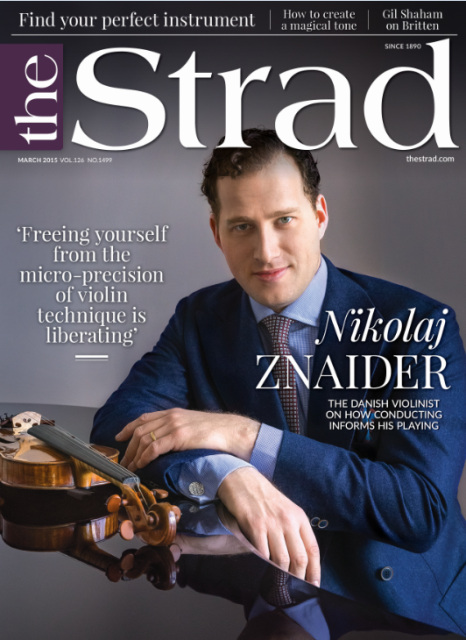 The Strad's March 2015 issue is on sale now, featuring Danish violinist Nikolaj Znaider on repertoire and interpretation, and the impulse that drove him to mount the conductor's podium.
We also speak to fellow soloist-conductors, including Maxim Vengerov, Joshua Bell, Thomas Zehetmair and Julian Rachlin, about their decision to combine bow with baton; investigate the influence of star violinists Joseph Szigeti and David Oistrakh on the violin concertos and sonatas of Prokofiev; and speak to dealers and foundation representatives about how to match players with their ideal instrument.
In our regular sections: In Focus gives a close-up view of a 1953 violin by Giuseppe Ornati; Alan Beavitt discusses his method for making a rubbed joint in Trade Secrets; SÁo Paulo maker Marcos Schmitz invites us into his workshop in My Space; Leon Bosch guides us through Dittersdorf's Double Bass Concerto no.2 in part two of his Masterclass; viola professor Bruno Giuranna discusses bowing technique and tone production in Technique; cellist Leonard Elschenbroich takes us through his Practice Diary; three teachers advise on how to learn scale patterns by listening in Ask the Experts; and violinist Gil Shaham talks about Britten's Violin Concerto as his Sentimental Work.
We also bring you news of the latest competitions, products and auctions, and comprehensive reviews of concerts, CDs and books.
The digital magazine is on sale now. The print edition is on sale from Thursday 26 February 2015. Subscribe to The Strad or download our digital edition as part of a 30-day free trial. To purchase single issues click here.