We investigate the relationship between Stradivari's purfling corners and his violin forms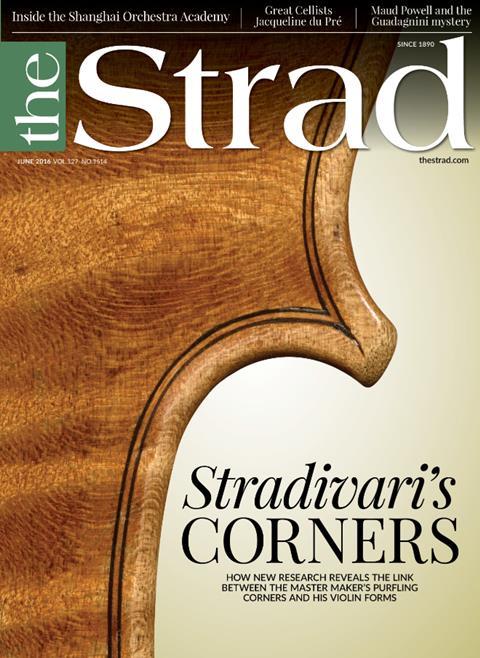 The Strad's June 2016 issue is on sale now, in which violin maker Philip Ihle reveals his new findings on the link between Stradivari's purfling corners and his violin forms.
Elsewhere in the issue Rebecca Schmid reports on the Shanghai Orchestra Academy, an innovative partnership that brings Western ensemble members to China for masterclasses and mentorship opportunities; Julian Haylock pays tribute to legendary cellist Jacqueline du Pré as part of The Strad's Great Cellists series; in the 125th anniversary of Prokofiev's birth, Richard S. Ginell assesses the various
recordings of his Violin Concerto no.1; and Joseph Curtin investigates US virtuoso Maud Powell's violins, and asks whether her Guadagnini was really a George Gemünder.
In our regular sections: the new Masterclass series continues with violinist Antje Weithaas, who marks up the sheet music for the first movement of Brahms's Violin Concerto; In Focus gives a close-up view of an 1857 violin by Gaetano Dionelli; Torbjörn Zethelius shares his quick and accurate method of adding measurements at the start of a new project in Trade Secrets; Swiss luthier Ulrike Dederer invites us into her workshop in My Space; cellist Lionel Handy gives tips on practising double-stops with more fluidity in Technique; British violist Rachel Roberts take us through her Practice Diary; three bow makers give advice on what a player should look for when buying a new Baroque bow in Ask the Experts; and violist Nils Mönkemeyer talks about Mozart's 'Kegelstatt' Trio KV498 in Sentimental Work.
We also bring you news of the latest competitions, products and auctions, and comprehensive reviews of concerts, CDs and books.
The digital magazine is on sale now. The print edition is on sale from Wednesday 25 May 2016.