We meet Tim Frederiksen, the man behind the Danish and Nightingale quartets, and speak to musicians and jury members about the various issues surrounding competitions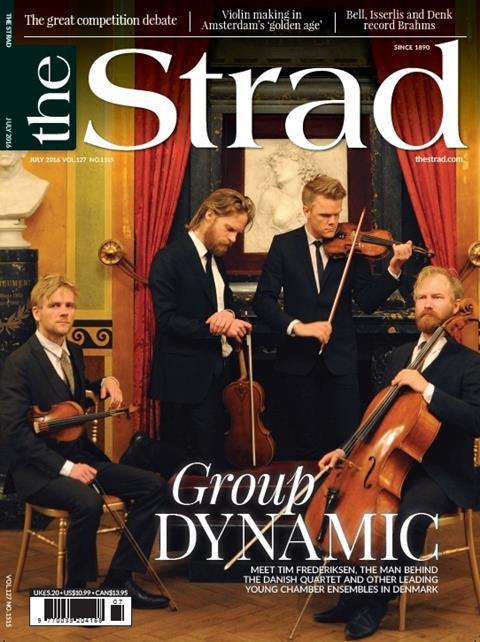 The Strad's July 2016 issue is on sale now, in which Danish chamber music tutor Tim Frederiksen - who has brought together ensembles such as the Nightingale and Danish quartets - speaks to Andrew Mellor about his techniques.
Elsewhere in the issue, Charlotte Smith talks to musicians, jury members and contest organisers about the various issues surrounding the competition format; Judith Kogan reports from the Brahms Trio recording session featuring violinist Joshua Bell, cellist Steven Isserlis and pianist Jeremy Denk; Hubert de Launay investigates violin making in the Netherlands and the makers of Amsterdam's 'golden age'; and Chloe Cutts reports on the Piatigorsky International Cello Festival 2016, held at USC Thornton School of Music.
In our regular sections: Masterclass features violinist Antje Weithaas, who marks up the sheet music for the second half of Brahms's Violin Concerto first movement; In Focus gives a close-up view of the 1707 'Paganini, Countess of Stainlein' cello by Antonio Stradivari; Eric Lane shares his method for removing a broken screw embedded in a bow stick in Trade Secrets; Iranian luthier Mohsen Shamloo invites us into his workshop in My Space; double bassist David Heyes gives advice on how to draw the most resonant sound from your instrument in Technique; Russian violinist Yuri Zhislin takes us through his Practice Diary; three teachers give tips on teaching a large group of beginner violin students in Ask the Experts; and double bassist Dan Styffe talks about Arvo Pärt's Spiegel im Spiegel in Sentimental Work.
We also bring you news of the latest competitions, products and auctions, and comprehensive reviews of concerts, CDs and books.
The digital magazine is on sale now. The print edition is on sale from Wednesday 22 June 2016.