The concert featured a group of Isserlis's closest musical friends including Joshua Bell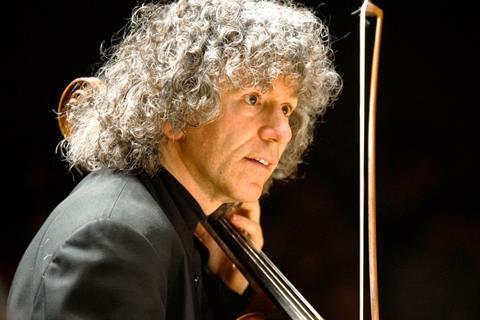 Steven Isserlis celebrated his 60th birthday yesterday, marking the occasion with a special concert at Wigmore Hall in which the British cellist was joined by a group of his closest musical friends Radu Lupu (in a rare guest appearance), Sir András Schiff,Connie Shih, Ferenc Rados, Joshua Bell, and Sir Simon Keenlyside, both performing with and for him.
Isserlis also performed the world premiere of For Steven Isserlis 60, composed especially for him by Márta and György Kurtág.
In the run-up to his birthday, Isserlis also received three awards, starting, on 10 October, with the Gold Medal and Certificate of Merit from the Armenian Ministry of Culture.
This is the Ministry's highest accolade and was awarded to Isserlis, following a performance of Dvorák's Cello Concerto with the Armenian Philharmonic Orchestra, for 'strengthening cultural ties between Armenia and the UK, for mutually beneficial long-term collaborations, and the development of educational endeavours'. Isserlis has been a regular visiting performer to Armenia, having first performed in Yerevan during the Soviet era, in 1984.
On 1st December, Isserlis was presented with the Honorary Fellowship of St Hilda's College Oxford at a recital with pianist Alasdair Beatson at the college's Jacqueline du Pré Music Building. The Fellowship has been awarded in recognition of Isserlis's many years of artistic support to the College where he is Patron of the Jaqueline du Pré and returns annually to perform.
Finally, this week, Isserlis received The Maestro Foundation Genius Grant, awarded by Santa Monica-based The Maestro Foundation, which nurtures young classical musicians, and for which Isserlis has given many recitals.
Isserlis commented, 'All three of these extremely varied awards have thrilled me, because they are all given by institutions with aims that are close to my heart. They almost compensate for my reaching the advanced age of 60…'