Leading composers of today speak about writing for violin and orchestra, and soloists discuss the challenges of giving their premieres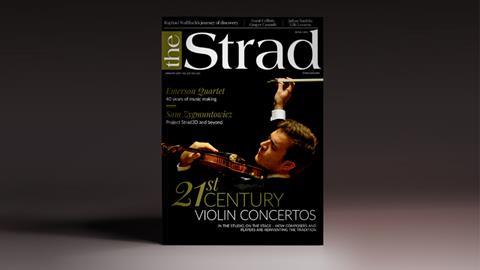 The Strad January 2017 issue is on sale now, in which leading composers and players speak to Peter Quantrill about reinventing the concerto tradition in the 21st century - both in the studio and on the stage.
Elsewhere in the issue, Chloe Cutts meets US-based luthier Sam Zygmuntowicz, who for the past three decades has been involved with research projects involving stringed instruments; Raphael Wallfisch talks to Rebecca Schmid about his latest recording of cello concertos by exiled Jewish composers Goldschmidt, Weigl and Reizenstein; the Emerson Quartet look back on 40 years of music making and reveal their future plans to Jessica Duchen; and David Milsom examines the life and recordings of Catalonian cellist and composer Gaspar Cassadó.
In our regular sections: Masterclass features Augustin Hadelich, who marks up the sheet music for Tchaikovsky's Violin Concerto in the second of a two-part article; In Focus gives a close-up view of the 1666 'Sachs' violin by Antonio Stradivari; Guy Rabut shares his method for securely clamping a fingerboard in Trade Secrets; British luthier Helen Michetschläger invites us into her workshop in My Space; cellist Hillel Zori gives advice on using the back muscles in Technique; Violinist and conductor Julian Rachlin shares memories and experiences in Life Lessons; three tutors advise a reader on whether a young beginner should ever have lessons with two teachers at the same time in Ask the Experts; and cellist Lynn Harrell talks about his relationship with Bloch's Schelomo in Sentimental Work.
We also bring you news of the latest competitions, products and auctions, and comprehensive reviews of concerts, CDs and books.
The digital magazine and print edition are on sale now.