Examining the mysteries behind French maker Jean-Baptiste Vuillaume's 'Evangelists' quartet of instruments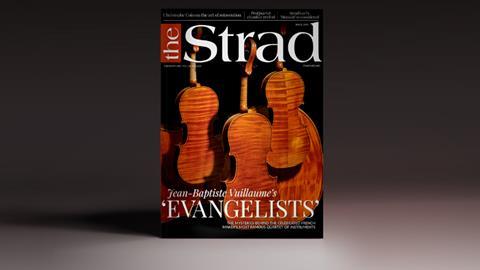 The Strad February 2017 French-themed issue is on sale now, in which John Dilworth examines Jean-Baptise Vuillaume's 'Evangelists' quartet of matched instruments, made in 1863.
Elsewhere in the issue, French cellist and viola da gamba player Christophe Coin speaks to Helen Wallace about historically informed performance; Chris Haigh examines the long, rich history of folk fiddling in France; and Toby Deller speaks to players, tutors and the founder of chamber music course ProQuartet to discover its role in encouraging quartet playing in France.
In our regular sections: Masterclass features Paul Silverthorne, who marks up the sheet music for Brahms's Viola Sonata no.2 in the second of a two-part article; In Focus gives a close-up view of a c. 1767 violin by G.B. Gabrielli; Nicolas Gilles shares his method for harvesting pine resin in Trade Secrets; Angers-based luthier Patrick Robin invites us into his workshop in My Space; violin tutor Ros Stephen gives advice on playing with a relaxed fourth finger in Technique; US violist Kim Kashkashian shares memories and experiences in Life Lessons; a reader seeks advice on whether it is worth buying a device for 'playing in' an old instrument in Ask the Experts; and double bassist Leon Bosch talks about his relationship with Bottesini's Elegy and Tarantella in Sentimental Work.
We also bring you news of the latest competitions, products and auctions, and comprehensive reviews of concerts, CDs and books.
The digital magazine is on sale now. The print edition is on sale from 25 January 2017.