French cellist Gautier Capuçon speaks about the vision behind his Classe d'Excellence de Violoncelle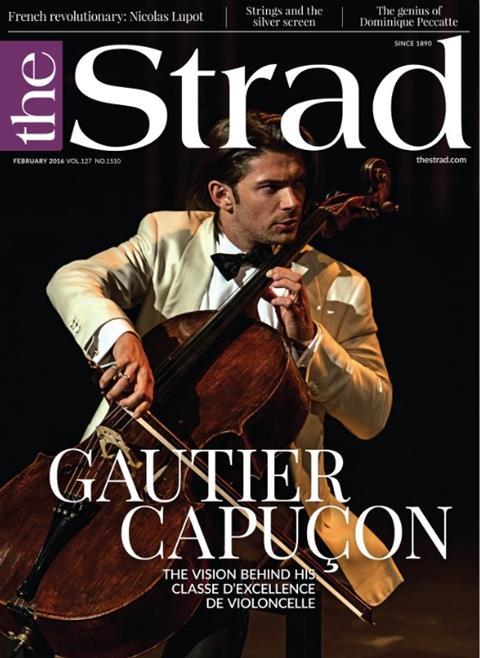 The Strad's February 2016 issue is on sale now, in which French cellist Gautier Capuçon speaks to Charlotte Gardner about the drive to continue learning and its connection to successful playing at his Classe d'Excellence de Violoncelle in Paris.
Elsewhere in the issue, Sylvette Milliot investigates pioneering luthier Nicolas Lupot, who witnessed the French Revolution, the Terror and the rise of Napoleon; Tully Potter assesses the legacy of 'quintessentially French' cellist Pierre Fournier; and Charlotte Smith speaks to top contemporary composers about the enduring attraction of the string sound in film.
In our regular sections: the new Masterclass series continues with cellist Wolfgang Emanuel Schmidt, who marks up the sheet music for Schumann's Adagio and Allegro; In Focus gives a close-up view of an 1847 bow by Dominique Peccatte; Davide Sora shares his method for blackening the chamfers on a violin scroll in Trade Secrets; Montpellier luthier Frédéric Chaudière invites us into his workshop in My Space; violinist Henning Kraggerud discusses sympathetic tones in Technique; Russian-born violinist Natalia Lomeiko takes us through her Practice Diary; three violin makers discuss the effectiveness (or otherwise) of humidity gauges built into instrument cases in Ask the Experts; and violinist Pierre Amoyal talks about the Havanaise by Saint-Saëns in Sentimental Work.
We also bring you news of the latest competitions, products and auctions, and comprehensive reviews of concerts, CDs and books.
The digital magazine is on sale now. The print edition is on sale from Wednesday 27 January 2016.