British Baroque violinist Rachel Podger speaks about symbolism, sonorities and sacrifice in Biber's Rosary Sonatas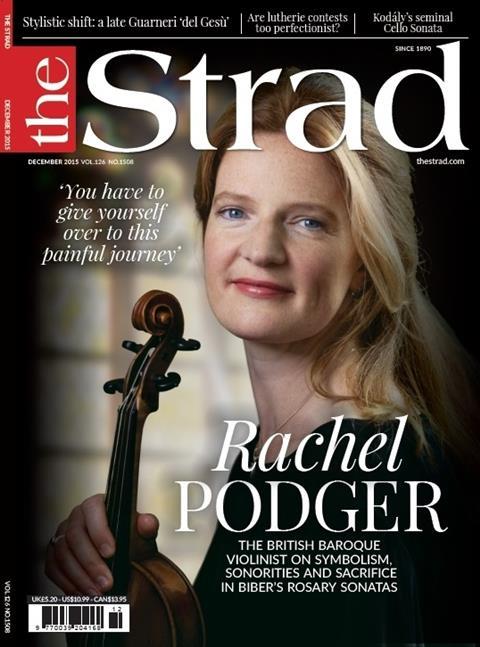 The Strad's December 2015 issue is on sale now, in which British Baroque violinist Rachel Podger speaks to Philip Clark about the singular challenges of Biber's Rosary Sonatas, considered the most extensive example of scordatura.
Elsewhere in the issue, Alberto Giordano examines the 1743 'Brusilow' Guarneri 'del Gesù' - an 'existential' late-period violin, crafted at a crossroads in the story of Cremonese lutherie; Julian Haylock explores the conception of Kodály's Solo Cello Sonata, a seminal work written 100 years ago; and John Dilworth surveys the instruments included in The Strad's 2016 Calendar, 'Cellos of the Stars', by makers including Stradivari, Gofriller, Rugeri and Montagnana.
In our regular sections: In Focus gives a close-up view of the 1686 'Helvetica' violin by Antonio Stradivari; Shem Mackey shares his method for decorating a viol soundhole in Trade Secrets; South African luthier Albertus Bekker invites us into his workshop in My Space; Christian Tetzlaff discusses the last two movements of Beethoven's Violin Concerto in Masterclass; violin professor Michael Frischenschlager gives tips on practising scales in Technique; American double bassist DaXun Zhang takes us through his Practice Diary; three wood specialists give advice on choosing the perfect spruce and maple for an instrument in Ask the Experts; and cellist Jan Vogler talks about Tchaikovsky's Rococo Variations as his Sentimental Work.
We also bring you news of the latest competitions, products and auctions, and comprehensive reviews of concerts, CDs and books.
The digital magazine is on sale now. The print edition is on sale from Friday 20 November 2015.