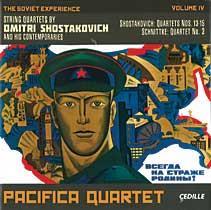 The Strad Issue: January 2014
Description: A worthy conclusion to an impressive Shostakovich cycle
Musicians: Pacifica Quartet
Composer: Shostakovich, Schnittke
This volume completes the Pacifica's cycle of Shostakovich quartets. It opens with a clear, searching exposition of the dark 13th Quartet, superbly paced, inexorable, with a tonal range austere at one extreme and genuinely violent at the other. It was dedicated to Vadim Borisovsky, viola player of the Beethoven Quartet, and his counterpart here, Masumi Per Rostad, makes fine work of his featured solos.
Similarly, the 14th Quartet was dedicated to cellist Sergei Shirinsky, and the Pacifica cellist Brandon Vamos also distinguishes himself. The faux-naiveté of the first movement is expressed in crisp, jaunty playing, jolly and dry. The long threads of the central Adagio are beautifully woven together, while the last contains, inter alia, a great piece of teamwork in the passing of quaver fragments between players to form a continuous line.
In the broad and almost static landscape of the Elegy that opens the 15th Quartet the playing is masterly, keeping shape and purpose. The vehement outbursts of the Serenade are startling, but Vamos plays his serenader's melody with insouciance as the emotional temperature shifts once again. The sudden violent heat that opens the Funeral March is fuelled by strong vibrato (the variety and subtlety of vibrato is a feature of all the playing here, its effectiveness enhanced by the recording, close in with a touch of resonance). This is an exemplary performance of a complex, concentrated work, and a fitting ending to an authoritative cycle.
It is not the last work here though. Each volume in the set features a work by another Soviet-era composer, and this one closes with a powerful performance of Schnittke's Third Quartet.


TIM HOMFRAY