Violinist spins poetry out of an all-Schnittke collection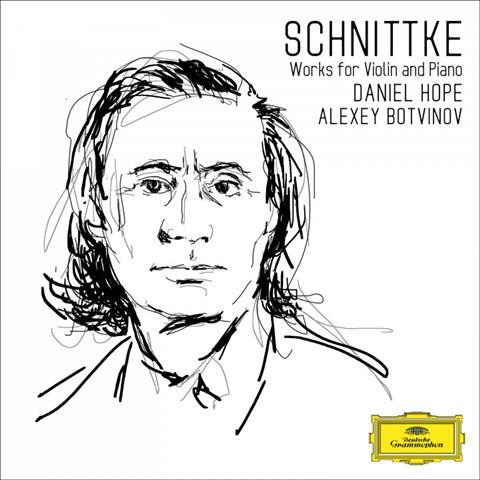 The Strad Issue: May 2021
Description: Violinist spins poetry out of an all-Schnittke collection
Musicians: Daniel Hope (violin) Alexey Botvinov (piano)
Works: Schnittke: Works for Violin and Piano: Suite in the Old Style; Polka; Tango (arr. Andriy Rakhmanin); Violin Sonata no.1; Madrigal in memoriam Oleg Kagan; Gratulationsrondo; Stille Nacht
Catalogue number: DG 483 9234
Daniel Hope's DG releases of late have followed the path of themed compilations – Belle Époque, My Tribute to Yehudi Menuhin, Escape to Paradise – so this all-Schnittke disc feels refreshingly substantial, and it reflects a good cross-section of Schnittke's eclectic output.
Drawn from film scores, the Suite in the Old Style (like the Congratulatory Rondo, also on the disc) is mostly a straightforward rococo pastiche – and played as such, without quotation marks. There's a different stylistic hijacking in the Tango and irreverence in the Polka, both of which Hope brings off with flair.
The balance between mischief and menace in the Polka also colours the second movement of the Violin Sonata no.1 (1963), the 'meat' of the disc. A twelve-tone work, Schnittke said it depicted 'a tonal world with atonal highways'. Hope's stratospheric harmonics at the close of the Largo are glassy and pristine but in the finale's deconstruction of 'La cucaracha', and elsewhere, a less well-behaved approach would better fit this music of extremes.
Finely recorded, the disc ends with Stille Nacht, a noirish take on the popular Christmas carol. Most affecting, though, is another occasional piece, the Madrigal in memoriam Oleg Kagan. Its ultra-spare expression inspires Hope to explore elliptical, poetic and intensely unsettling realms.
EDWARD BHESANIA