Exemplary playing distinguishes concertos from two Soviet mavericks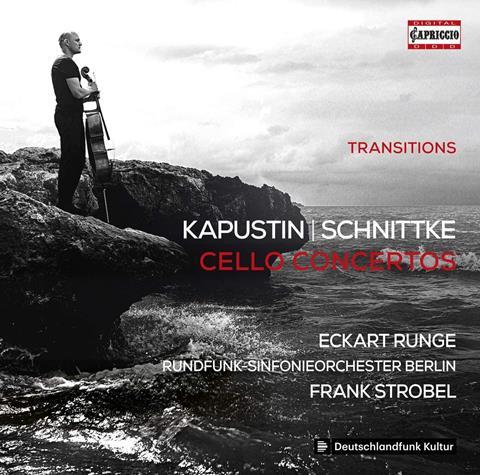 The Strad Issue: October 2020
Description: Exemplary playing distinguishes concertos from two Soviet mavericks
Musicians: Eckart Runge (cello) Berlin Radio Symphony Orchestra/Frank Strobel
Works: Kapustin: Cello Concerto no.1 op.85. Schnittke: Cello Concerto no.1
Catalogue number: Capriccio C 5362
Nikolai Kapustin and Alfred Schnittke were born a mere three years apart in the 1930s and both were mavericks who played the Soviet musical system while remaining individualistic. Yet their artistic outlooks were very different, as is highlighted by these two concertos. Kapustin, who died in July 2020, after the packaging for this CD had been printed, is best remembered for his many keyboard works and as a purveyor of symphonic jazz. His First Cello Concerto was written in 1997 but remained unperformed until he offered it to cellist Eckart Runge for this recording and a scheduled public premiere next year. It's a rumbustious work, combining blues-y and catchy melodic writing for the soloist with big-band-style accompaniment from the orchestra.
The First of Schnittke's two Cello Concertos was written for the opening of Munich's Gasteig concert hall in 1986, but it is far from a celebratory work. Indeed, it was written during the composer's recovery from a stroke and ends, in a nod to Beethoven, with a kind of 'Heiliger Dankgesang'. Before that we have typical Schnittkerian angst and apocalyptic writing for both soloist and orchestra.
Both concertos, then, challenge the traditional balance difficulties between a tenor soloist and massive orchestra and it does mean that Runge inevitably sounds spotlit in the recording. His playing, though, is exemplary, as befits the cellist of the Artemis Quartet: technically polished and emotionally committed to both Kapustin's high jinks and Schnittke's polystylistic extremes.
MATTHEW RYE