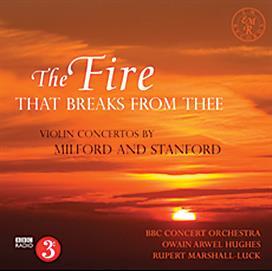 The Strad Issue: May 2015
Description: Two rediscovered English concertos given ideal interpretative advocacy
Musicians: Rupert Marshall-Luck (violin) BBC Concert Orchestra/Owain Arwel Hughes
Composer: Holst, Milford, Stanford
Holst's rarely heard early Walt Whitman Overture, with hints of ceremonial Wagner, is a fitting up-beat to his teacher Stanford's Second Violin Concerto, which receives its first recording here in an orchestration by scholar Jeremy Dibble (the composer completed the work in short score but no orchestration has survived). The models are unapologetically Brahms and Mendelssohn, a fact that doesn't preclude the concerto from being a work of skill and individuality. Rupert Marshall-Luck is an ideal interpreter: generously but not effusively lyrical; agile and athletic (though just occasionally, in the very trickiest parts, becoming more mechanical). The warm, folksong-like slow movement is at times almost painfully beautiful, with a shimmering pastoral central section, transparently scored.
If this work is a worthy discovery, another premiere recording – of the Violin Concerto by Robin Milford (a pupil of Holst's) – is even more of a surprise: attractive, unmistakably English, but with touches of darkness and chromatic harmony in the slow movement and some bold gestures in the finale, not least its sombre ending. Marshall-Luck is, again, indefatigable and keenly picks up on the work's melancholy strain. Finely recorded and with comprehensive booklet notes, this is a must for fans of 20th-century English repertoire.
EDWARD BHESANIA