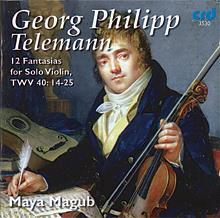 The Strad Issue: January 2013
Description: Stylish performances of Telemann's solo violin fantasias
Musicians: Maya Magub (violin)
Composer: Telemann
Maya Magub's accounts confirm her musical allegiances in both modern and period camps – she uses a modified c.1760 Gagliano violin tuned to modern concert pitch, a relatively modern bow, a combination of gut and metal strings and a mixture of Baroque and contemporary performing practices.
She brings to these intricate miniatures an aristocratic poise, and her technical command, extempore ornamentation and flexibility of pulse admirably capture the improvisatory character of each. She also commands a powerful dynamic range and uses vibrato sparingly, producing a varied palette of tonal colours.
Magub skilfully conveys the voice-leading in Telemann's polyphony, not only in the quasi-fugal movements (such as the second movements of nos.1, 2 and 5), but also in movements in which dialogue is implicit – sample, for example, the opening movements of nos.3 and 6. She also deftly captures the humours of individual movements, whether dance-inspired, as in the Vivace of no.3, or folk-influenced as in the final Allegro of no.10. Tempos are generally well judged, even if the Allegro of no.1 seems too fast on its initial appearance, but some listeners may prefer less reverberation and greater clarity in the recorded sound. Nevertheless, these polished, stylish performances bring Telemann's music to life in an unforced, natural way.


ROBIN STOWELL