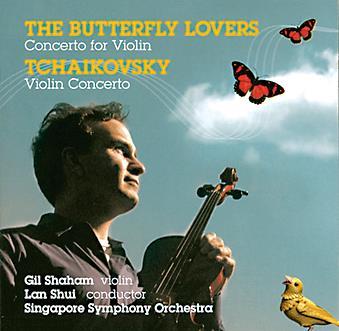 The Strad Issue: January 2008
Musicians: Gil Shaham (violin) Singapore Symphony Orchestra, Lan Shui (conductor)
Composer: Tchaikovsky, Gang ChenZhanhao He:
In terms of scorching commitment, Isaac Stern's CBS/Sony account of the Tchaikovsky with the Philadelphia Orchestra in meltdown under their long-time music director Eugene Ormandy still finds all others wanting. By comparison the Singapore Symphony Orchestra under Lan Shui is the very soul of discretion (despite some imposing tuttis), providing a gentle backdrop for Gil Shaham where Ormandy enters fully in the fray.
Shaham (who like Stern is well to the fore) is on spectacular form, playing with a technical ease, intonational purity, dynamic intensity and radiant tonal allure ideally matched by Canary's velvety, in-depth engineering. Shaham must have played the Tchaikovsky on countless occasions yet so fresh and sincere is his interpretative approach that he sounds as though he is discovering its special qualities for the very first time.
The coupling is unique. Reputedly the most performed of all violin concertos due to its musical omnipotence in modern China, the 'Butterfly Lovers' Concerto is still all but unknown in the West. Co-written in 1959 by composition student Gang Chen and violinist Zhanhao He, it created a sensation at the time as 'the Tchaikovsky concerto of the East', but subsequently became embroiled in the Cultural Revolution – Chen was sent to prison and then placed under house arrest for 'crimes worse than murder' (stylistic cosmopolitanism and bourgeois decadence). Cast in one programmatic movement in seven sections, the concerto, with its easy flow of orient-saturated melody and added-noted harmonies, seems innocent enough now, and Shaham plays it like a long-lost masterwork, inflecting its gentle inspiration with a warmth and sensitivity that is utterly beguiling.
JULIAN HAYLOCK