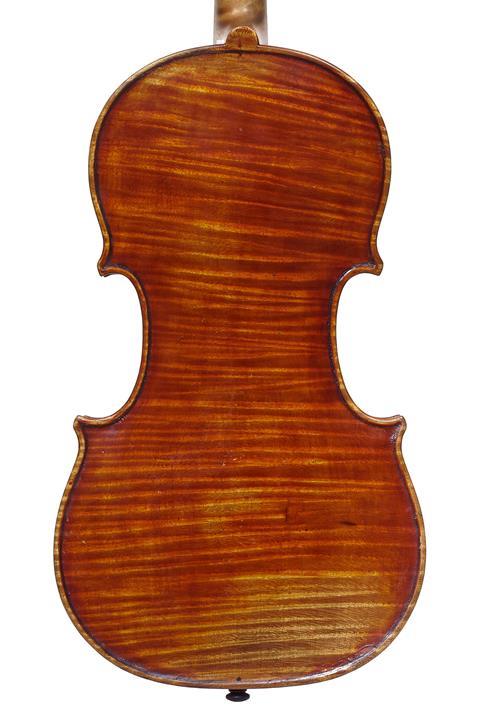 Tarisio has released the results of its June sale in London. The top lot was a Pressenda violin from 1828 (pictured), which fetched £276,800. The internet auction house also had two violin bows in its top five, with an F.X. Tourte making £60,000 and a Persoit, which was owned by Leila Josefowicz, fetching £48,000.
Tarisio also ran a sale for speculative, restorable and trade instruments in New York on 12–13 June, at which a c.1820 violin smashed its $3,000–$5,000 estimate to make $36,000.
Below are the top five lots from each sale. All sale prices include buyer's premium.
Tarisio 12–13 June, New York
1= Lot 262
A violin c.1820
Estimate $3,000–$5,000 Sale price $36,000
1= Lot 278
An Italian violin, late 18th century, probably Gragnani family, ascribed to Antonio
Estimate $12,000–$18,000 Sale price $36,000
3 Lot 148
A violin bow by Eugène Sartory
Estimate $6,000–$9,000 Sale price $15,600
4 Lot 274
A violin c.1900
Estimate $6,000–$9,000 Sale price $13,200
5= Lot 269
A violin by Amédée Dieudonné, Mirecourt, 1950
Estimate $3,500–$5,500 Sale price $10,800
5= Lot 275
A violin, probably Italian, attributed to Carlo Antonio Testore, late 18th century
Estimate $6,000–$9,000 Sale price $10,800
Lots offered 278
Value of lots sold $544,737
Percentage sold 92.1%
Tarisio 24 June, London
1 Lot 216
A violin by Giovanni Francesco Pressenda, Turin, 1828
Estimate £200,000–£300,000 Sale price £276,800
2 Lot 215
A violin by Stefano Scarampella, Mantua, 1905
Estimate £70,000–£100,000 Sale price £84,000
3 Lot 214
A violin by Carlo Ferdinando Landolfi, Milan, c.1755
Estimate £70,000–£100,000 Sale price £78,000
4 Lot 115
A violin bow by François Xavier Tourte, c.1790–5
Estimate £50,000–£80,000 Sale price £60,000
5 Lot 114
A violin bow by Jean Pierre Marie Persoit
Estimate £25,000–£40,000 Sale price £48,000
Lots offered 214
Value of lots sold £1,461,634
Percentage sold 81.3%
Photo: Tarisio